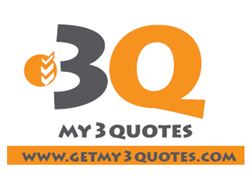 Minneapolis, MN (PRWEB) November 05, 2013
My 3 Quotes is the innovative "customer friendly" approach to getting three competitive estimates on installed siding, windows, and roofing. Consumers finally have an "industry expert in their corner," helping them find the perfect products and install companies that uniquely fit their project, all without sitting through any company's sales pitch and all at no charge to the customer.
Ryan Carey, founder of My 3 Quotes, credits all of the homeowners he has talked to during his 15 years in the industry for his business model. "So many homeowners have made the same comments over the years. I knew if I could simply give them everything they ask for and take out the parts of the process they don't like, we'd have something special."
So what's not to like about getting quotes on home improvements? Carey explains, "Homeowners tell me they want three quotes to compare options and pricing, but they don't want to sit through three long-winded, three-hour presentations. They can't stand when a company uses high pressure and says the price is only good for that day, only to find out later they paid way too much. With My 3 Quotes, we've reinvented the process by removing the three company salespeople and replacing them with one advocate for the homeowner."
Carey also mentioned that customers get very confused during the process by receiving conflicting information. "I had a lady at a home show walk up to me and say, 'I've been to six different booths today. Everyone says their product is the best and all the rest have problems. How do I know who to believe?'"
Not being affiliated with any product or install company, My 3 Quotes can give unbiased information on all manufacturers. "All products available in the Twin Cities market have pros and cons," says Carey. "We'll tell you what they are. You won't find unbiased opinions from anyone else in town because they're always trying to sell a particular product…theirs."
My 3 Quotes has created the easiest way to collect estimates without the hassle. They come to your home to ask a few simple questions, give suggestions, take measurements, and submit the job scope to three competing companies that best suit your product and install needs. You will then be presented with a side-by side comparison that includes: price, warranty, BBB rating, years in business, lead time, financing options and more.
When companies know they are competing against quality competition with the same product, they go right to their bottom dollar to compete for the job which results in the lowest prices for the customer- guaranteed.
My 3 Quotes has a clear mission: Connect the customer to the product and company that best fits their needs at the best price while making the process enjoyable for the customer. After all, shouldn't upgrading your home be a pleasant experience?
For more information, call 763-496-8598 or visit the website at http://www.getmy3quotes.com.