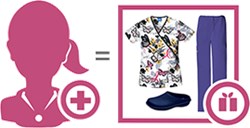 Caregiver scrubs are...a clear indication of a professional on the job.
(PRWEB) October 31, 2013
Caregiverlist.com has partnered with Scrubs Magazine to offer a complete set of scrubs to a monthly winner in it's Refer-A-Friend Scrub Giveaway.
Senior caregivers who refer a friend for a caregiving job on Caregiverlist are eligible to win one monthly grand prize of a Scrub-of-the-Month (top, bottoms and pair of shoes), courtesy of Scrubs Magazine. Weekly winners receive a free t-shirt, lapel pin and 10-hour online caregiver training program as a member of the Professional Association of Caregivers. Winners are drawn randomly.
Caregiver scrubs are a uniform and a clear indication of a professional on the job. In it's ongoing mission of "caring for the caregiver," Caregiverlist.com is excited to provide the opportunity to help senior caregivers present themselves more professionally to their elderly clients.
"We think scrubs are ideal for the senior caregiver because they are comfortable, allow for a range of motion and are easily cleaned," said Vera Perekoteyeva, Caregiverlist contest coordinator. "And scrubs are a universal symbol identifying the wearer as a member of the healthcare profession."
Previous monthly scrubs have included Warriors in Pink (for Breast Cancer Awareness Month) and Hello Kitty, courtesy of top scrub providers Cherokee Uniforms and Dickies.
The need for qualified senior caregivers and Certified Nursing Aides continues to grow rapidly. The 2013 Caregiverlist Employment Index shows a 40% growth in the senior care industry since 2008. Senior care will be one of the top employers in the next decade, according to the U.S. Bureau of Labor Statistics. Because senior care companies hire from 3 to 6 caregivers and nursing aides each week, more senior caregivers are needed, which makes Caregiverlist's Refer-a-Friend program vital.
Caregiver job applicants with no prior professional caregiving experience may take an online caregiver certification training course on Caregiverlist.com. Because all professional senior caregiver companies require a criminal background check, caregivers may also purchase a quality background check to verify their information.
About Caregiverlist
Caregiverlist.com is the nation's online destination dedicated to connecting seniors with quality senior care choices. Caregiverlist.com helps seniors and their loved ones define care needs, understand the many caregiving options and costs and connect to senior home care agencies that meet Caregiverlist.com's checklist of quality standards. Caregiverlist.com is also a leading caregiving career and recruitment resource. Visit the Caregiverlist.com blog page for caregiver job and senior care industry news.
About Scrubs Magazine
Scrubs is the only magazine and website that's 100 percent about nurses — personally and professionally — and the very specific joys and challenges they face because of the noble career they chose.