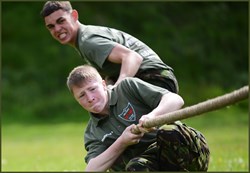 There are numerous examples of students losing 3 stone or more whilst on the course, just because of proper advice on exercise and diet.
(PRWEB UK) 31 October 2013
A new report "Exercise 'boosts academic performance' of teenagers," published in the British Journal of Sports Science, cites new research which claims that intensive exercise improves the academic performance of teenagers.
The phrase 'Healthy Body Healthy Mind' is often used. Fresh evidence presented by the BBC News website last week reveals evidence to quantify the truth of the anecdote. The study, of about 5,000 children, found links between exercise and exam success in English, maths and science. It said that most of the teenagers' exercise levels were found to be well below the recommended 60 minutes a day.
The authors speculated what might happen to academic performance if children got the recommended amount. They claimed that since every 15 minutes of exercise improved performance by an average of about a quarter of a grade, it was possible children who carried out 60 minutes of exercise every day could improve their academic performance by a full grade - for example, from a C to a B, or a B to an A. However, the authors couldn't test this theory since finding a target group of young people who all did 60 minutes of daily exercise was not possible.
The UK's largest military preparation programme would have provided them with the required sample of students to test their hypothesis. Huw Lewis MBE, Managing Director of the Military Preparation College commented: "Young people these days are doing far less exercise than they used to do, probably because there are so many distractions from modern technology which compete for time. At the Military Preparation College, we have witnessed first-hand the beneficial effect of daily exercise on concentration levels and classroom performance. Since the College was formed in 1999, all students have taken part in at least 2 hours of daily physical activity, as well as a similar amount of classroom-based work to develop military knowledge and improve maths and English."
The formula has been very beneficial to the students at the College, many of whom find that the regime gives them not only more of an appetite for learning, but also the ability to concentrate. The College boasts very high success rates in developing English and Maths in its students. Skills Manager Lisa Gill said: "The syllabus is based on active learning, where a lot of emphasis is placed on learning in envigorating environments rather than sitting at a desk. This alone improves blood flow, energy levels and concentration. This is coupled with at least 2 hours of pure daily physical exercise, so I am not surprised that the students are able to improve their academic performance from when many of them spent their time in fairly inactive ways."
A different report, "Obese children should keep food diaries say guidelines," also on the BBC website last week, suggests that obese young people should keep a food diary. The College is concerned about the effects of obesity on not just health, but also social interaction and confidence. Because of this, students at the College who are overweight receive tailored nutritional advice and are encouraged to keep a food diary. All students are taught about the benefits of a healthy diet, since it has been witnessed in the College that concentration levels fall if breakfast is skipped, for example.
Huw Lewis MBE commented: "There are numerous examples of students losing 3 stone or more whilst on the course, just because of proper advice on exercise and diet, as well as mentoring through the weight loss programme by experienced instructors. I fully support the recommendations of this report, however I am well aware that it is sometimes difficult for parents to become as involved as they might wish, due to their own commitments. I am pleased to say that the College is fully committed to tackling child obesity and that the guidelines have been standard practice at the College since it was formed in 1999. The social and health consequences of obesity are highly detrimental and it is vital that the problem is tackled as vigorously as possible throughout the whole country."
The Military Preparation College was formed in 1999 and prepares young people for the Armed Forces. It concentrates on improving fitness levels, academic abilities and personal qualities. For more information, please call 08442 438438.