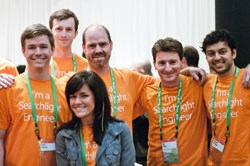 Social Responsibility is in our DNA.
New York, NY (PRWEB) October 31, 2013
Conductor, the leader in search marketing and analytics technology, today announced it has been named one of the Healthiest Companies to Work for in America by Greatist.com, the trusted health and fitness source for the young, savvy, and social.
Conductor has long been recognized for fostering a healthy and happy workplace environment, ranking in the top five for Crain's Best Places to Work in NYC for four consecutive years, named one Fortune's Great Place to Work 2012, and Best Companies to Work for in New York State for 2012 and 2013.
Conductor believes that providing an amazing place to work not only means healthier employees, but it paves the way for creating a better product and happier customers. In a fast-paced, innovative environment like Conductor's, employees are encouraged to de stress, with fun activities like in-office FIFA and Rockband video games, free lunch on Fridays, employee karaoke nights and more.
Conductor is an advocate for social responsibility through its Conductor Foundation, company volunteer opportunities and gives employees 16 hours of paid time to off to volunteer in the activities and causes of their choice.
"Social Responsibility is in our DNA," said Seth Besmertnik, Conductor CEO and Co-Founder. "We know that our employees' talents extend beyond their workplace achievements. Giving employees time to express these talents through volunteerism helps nurture personal and professional growth and satisfaction."
Conductor is one of New York City's fastest-growing technology companies, experiencing 300 percent growth year-over-year, ranking in the top 50 of America's fastest-growing private companies by Inc. Magazine. Its leading SEO technology platform, Conductor Searchlight has quickly risen to be the industry standard for enterprise SEO used by major brands and the agencies that support them. With its market-leading vision, unrivaled technology and world-class staff, Conductor continues to be the first-choice for organizations serious about online visibility and competitive edge. To learn more about career opportunities with Conductor, visit the Conductor Careers page.
About Conductor
Conductor is the global leader in search technology. More than 5,000 brands and enterprise marketers use its cloud-based platform, Conductor Searchlight™ to measure, improve and manage their natural search efforts to stay ahead of the competition, increase site traffic and boost revenues. The powerful, highly scalable platform processes massive amounts of data quickly to give users real-time information for better, more informed decision-making and to identifying new ways to increase share-of-search that will propel their businesses forward. Offering the most robust performance reporting and measurement tools available in the industry, Conductor arms marketers with the intelligence needed to tie SEO success to business objectives and demonstrate the value of SEO across the organization. One of New York City's fastest growing and most admired technology companies, Conductor is routinely recognized for excellence in business and corporate culture. To learn more, go to http://www.conductor.com or follow Conductor on Twitter @conductor.