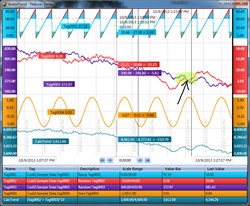 "Using the Canary Labs solutions, users will find new things about their process they were not able to see before." stated Gary Stern, President of Canary Labs.
Martinsburg, Pennsylvania (PRWEB) October 31, 2013
Canary Labs, the leading provider of data historian and trending applications announces AxiomTrendTM the next generation of trending analysis clients. AxiomTrend empowers operators, engineers, and managers to use a common analytical tool for viewing both real-time and historical data anywhere at any time.
AxiomTrend builds on the solid foundation of Canary Labs' legacy trend products delivering the next generation client/server solution. It is an intuitive and easy to use data analysis client and is capable of delivering the rich content desired by today's diverse user community. Users can view, analyze and report trend information simply and quickly in the format desired. Trends are delivered to either a rich desktop as a thin client or in a browser as a web application.
Built around a server oriented architecture, AxiomTrend is a thin client that is installed with a "single click" from a server site. The system architecture is flexible to support a mixture of client platforms. Whether the client is a mobile device or a desktop, the user experience is identical, reducing the cost to develop and deploy content. Users are quickly able to create new trends and adjust them to best display data for their application. All configuration and trend layouts reside on a central server. The design empowers users so they can manage the system and maximize the availability of their data.
Powerful features include scrolling to different points in time, easy configuration of legend areas, colors, fonts, scales, limits, formats, grid lines, and viewing orientation. Trends may be saved for viewing at a later time and by different users. Trends are displayed in the window with new data values coming in on the live edge and moving across the screen to the historical edge. Calculated trends can be created and displayed using other trend values.
"Our solutions make data available to the users' fingertips," stated Gary Stern, President of Canary Labs. "Using the Canary Labs solutions, users will find new things about their process they were not able to see before. Access to long term data archives is quick and easy. In addition, this cost-effective solution can provide data to users that do not have direct access to the SCADA system."
About Canary Labs
Canary Labs provides enterprise historian and trending solutions that simplify and optimize data analysis driving more informed, confident decisions. Leading companies worldwide rely on Canary Labs open, flexible and high performance software to improve process metrics and increase the agility, efficiency and reliability of data access. With a reputation for stellar service and support and minimal cost of ownership, Canary Labs ensures customer success to a client base with over 14,000 installations in 26 countries.
Canary Labs, headquartered in Martinsburg, Pennsylvania, is dedicated to the development of high performance historian and trending software and solutions. To learn more about Canary Labs, please call 814.793.3770 or visit http://www.canarylabs.com.