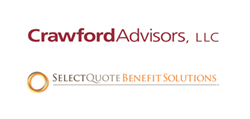 In partnering with SelectQuote through its insurance exchange, we are offering a comprehensive solution to our clients.
Hunt Valley, Maryland (PRWEB) November 05, 2013
Today, Crawford Advisors, LLC announced a partnership with SelectQuote Benefit Solutions to deliver to its clients a private insurance exchange for retiree medical benefits, individual healthcare and auto and home insurance. Now, retirees from clients of Crawford Advisors will have access to SelectQuote's insurance exchange capability, which offers Medicare Advantage and Medicare supplement coverage for retirees and other Medicare-eligible individuals. For individuals under 65 years and their families, SelectQuote offers health care coverage through GetInsured; and through its Auto and Home Exchange individuals will receive unbiased price comparisons from multiple insurance carriers for the most competitive rates on insurance plans.
"In partnering with SelectQuote through its insurance exchange, we are offering a comprehensive solution to our clients," said Reagan M. Crawford, founder and managing member of Crawford Advisors, LLC. "SelectQuote allows us to offer options to retirees and employees that meet their insurance and financial needs."
SelectQuote Benefit Solutions provides retirees and employees tools and access to licensed agents who can help guide them in understanding their coverage options. Through their private insurance exchanges, retirees and employees will find the most cost-effective plans that make sense for their lifestyle, healthcare and retirement vision. It will aid them in making good choices concerning individual insurance care coverage.
"We appreciate the confidence that Crawford Advisors has expressed in partnering with SelectQuote Benefit Solutions," said David Embry, president of SelectQuote Benefit Solutions. "We're able to offer many options to employees and retirees looking for Medicare, healthcare or auto and home insurance that provide the best value for the coverage they choose."
Crawford Advisors is one of the largest and best-equipped full-service benefits consulting and brokerage firms. The firm has invested heavily in technology to ensure its expert team can provide sophisticated solutions and comprehensive services to furnish the best value for each company's health and welfare benefits. Crawford Advisors consultants help manage cost, improve the health and productivity of client employees, and add to client companies' bottom line. Call 800-451-8519 or visit crawfordadvisors.com
About SelectQuote Benefit Solutions
SelectQuote, founded in 1985, today operates exchanges providing alternatives for Medicare, term life insurance and auto and home coverage, with more than 800,000 active customers nationwide. SelectQuote Benefit Solutions offers their exchanges to employees and retirees of their employer clients. Call Marc Wheeler at 415-260-7960 or visit selectquotebenefitsolutions.com.