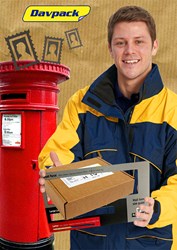 ...the Royal Mail is increasing the maximum size allowed for a package to qualify as a small parcel.
(PRWEB UK) 31 October 2013
When the Royal Mail introduced the small and medium parcel pricing bands back in April, Davpack was the first major packaging supplies company to be in a position to offer its customers specially designed postal boxes to match the new size restrictions.
Since then, Davpack's Small Parcel Saver Postal Boxes have proved a real hit with its customers, helping them stay within the new guidelines and avoid excessive and unnecessary delivery charges in the process.
As of October 28, following a period of consultation, the Royal Mail is increasing the maximum size allowed for a package to qualify as a small parcel. Whereas previously, it had to be no bigger than 450 x 350 x 80mm or 160 x 160 x 160mm, the second size has now been replaced by the larger size of 350 x 250 x 160mm, which is about the size of a large shoe box.
The Royal Mail estimates that will result in over 80% of the parcels it delivers being classed as small parcels. For Davpack customers, it means they immediately have 78 more possibilities to choose from when looking for small parcel postal boxes.
Just like in April, there has been little communication from the Royal Mail to help businesses plan ahead for the change. Davpack has, however, been keeping a close eye on developments so that it could be ready to react the minute the change in policy was made official.
"We're having three new Small Parcel Saver Postal Boxes made that will stay within the latest guidelines but allow users maximum packing space. These are already available for order via our website or by calling our Sales team, and we hope to have them ready to be shipped out early in the week commencing November 4," said Sales Director Paul Davenport.
"We've also fully updated the information on our website so that customers can clearly see into which pricing band the postal packaging they're buying will fit."
Click here for more information on the new Royal Mail pricing structure, or call Davpack on 01332 821200.