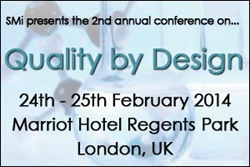 London (PRWEB UK) 30 October 2013
"What are the drivers for adopting continuous processing?
•Cost, time and material savings throughout the product life-cycle associated with more consistent product quality
•The development of in-line measurements and process control mechanisms to correct any changes are critical for success
•Potential for real-time quality assurance (parametric release) and reduced analytical costs" – Continuous processing in the pharmaceutical industry changing the mindset ,Plumb K. (2005). Chem. Eng. Res. Design 83(A6), 730-738
On this topic SMi is proud to announce Mr. Marcel de Matas, Principal Scientist Formulation Science, AstraZeneca will be presenting at the 2nd annual Quality by Design conference about Shifting tides in pharmaceutical manufacturing — Making continuous processing a reality

The case for and barriers to the adoption of new technology in the pharmaceutical industry
The journey so far regarding implementation of continuous processing for solid oral dosage forms
Examples of where continuous manufacturing methods have been explored
Why attend this event:

Employ QbD to design a formulation process. Harness raw material analysis and control strategy
Utilise PAT tools and applications for pharmaceuticals, biopharmaceuticals and ATMPs
Use risk assessment and management to best effect
Accurately include QbD information in regulatory document filings, including those for ICH Q8 and ASTM E 2500
Apply multivariate data analysis to maximise product development and patient outcomes
Plus an interactive half-day post-conference workshop: Successfully Implementing Quality by Design: An introductory Workshop QbD & PAT, hosted by Peter Boogaard, Founder, Industrial Lab Automation. Wednesday 26th February 2014, 9.00am – 13.00pm, Marriott Hotel Regents Park, London, UK.
For more information on the programme and speakers please visit the website. Register by 31st October and save £300.