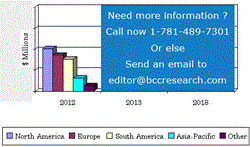 Wellesley, MA (PRWEB) October 31, 2013
According to a new technical market research report, Seed Treatment: Technologies and Global Markets from BCC Research (http://www.bccresearch.com), the global market for seed treatments was valued at $3.1 billion in 2012 and is expected to reach $3.2 billion in 2013. BCC Research projects the market to grow to $4.8 billion by 2018, and register a five-year compound annual growth rate (CAGR) of 8.3% from 2013 to 2018.
The global seed treatment market has grown exponentially in the last few years and is expected to continue its growth phase in the near future. Factors such as expensive seeds, ease of application, innovative production practices, new product offerings, increased availability and the advent of new pests are increasing the market all around the world. Though the market is driven primarily by insecticides, the increasing awareness of seed treatment fungicides and biocontrol nematicides is expected to contribute to further growth. Maize/corn, soybean, and cereals are the major crops behind the current market growth; however, there is a rising trend for the use of seed treatments on vegetable, rice, sugar beet, cotton, and oilseed crops.
North America and South America are leading the seed treatment market with a high presence of genetically modified crops. However, South America is the market with most growth potential, owing to an increase in seed treatment for major crops such as maize and soybean. Demand for seed treatment products in the Asia-Pacific region is expected to be driven primarily by countries such as China and India. According to BCC Research, countries such as Brazil, Argentina and the U.S., which account for over 50% of the total production of essential crops such as maize and soybean, are expected to drive the demand for the seed treatment in these regions.
Low-cost crop protection and rising prices of genetically modified crops, as well as a rising global population and increasing food requirements are also expected to drive steady growth in this market for the near term.
This report from BCC Research provides a detailed analysis of the global seed treatment market. As such, it discusses technological developments and equipment, evolution of seed treatment, future trends, and opportunities. This study also organizes information from diverse sources into a cohesive unit that includes evolution of seed treatment, equipment, technologies, application, and stages in commercial seed production. Conventional seeds, genetically modified (GM) seeds, and the seed treatment market are also explored in detail.
In addition, this report analyzes key applications, crop types and regions to determine present and future seed treatment market status and forecasted growth from 2012 through 2018. It also discusses industry structure and market strategies, patent evaluation, and market driving forces.
This report will be of particular interest to seed treatment, chemical, pesticide, seed, and seed coating manufacturers; as well as traders, distributors, and suppliers of pesticide and seed. It will also be of high interest to professionals within governments and regulatory agencies and associations, as it will help them understand the scope and pace of seed treatment.