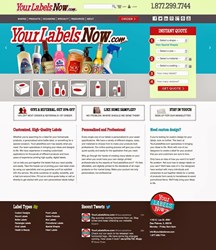 We are excited to offer our customers a site that provides a better user experience and more information than we've ever had. - Anthony Albert, Director of Marketing
Des Plaines, IL (PRWEB) October 31, 2013
YourLabelsNow.com, a digital label printing company supplying labels to the public, launches a new version of its website. All label orders are made through this site, while state-of-the-art digital label presses located in Chicagoland fulfill the orders. Everything a customer would need to order labels online with YourLabelsNow.com is provided in a concise and easy-to-understand tabbing system.
"We are excited to offer our customers a site that provides a better user experience and more information than we've ever had," stated Anthony Albert, Director of Marketing. "The new site is visually more appealing and will give our customers an easier way to browse our products online."
Additional features of the YourLabelsNow.com website include the range of available labels and the opportunity to customize the shape of your label. The different specialties of labels offered on the website include labels for food, beauty products, candles, home products, bottles, and boxes, as well as stickers.
YourLabelsNow.com now includes information on occasions in which labels might be used: promotional events, weddings, baby showers, birthdays, graduations, and holiday labels. Specialty labels offered by YourLabelsNow.com include custom, barcode, clear, waterproof, private, and short-run labels.
Other beneficial resources on the YourLabelsNow.com site include a glossary of terms commonly used in the digital label printing industry, as well as a list of label material types and artwork specifications. The site's new blog also provides insightful posts meant to inspire customers on the many ways that labels can be used, such as for pantry organization and for charity events.
Customers utilizing YourLabelsNow.com receive quotes, submit their artwork, and place their order—all online using a brand new interface.
About YourLabelsNow.com
It was established in 2007 as a digital label printing company in Chicagoland, Illinois. The company is wholly web based and prints all of their labels in the United States. Free samples are offered to customers who place their order through the YourLabelsNow.com website. As sales are fully made on the website, YourLabelsNow.com does not use sales representatives in the field. This cuts the costs of overhead required to print labels, thereby granting the digital label printing company the ability to produce lower cost, higher quality labels.