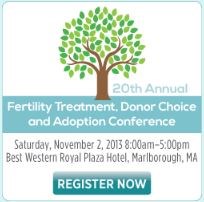 Lexington, MA (PRWEB) October 31, 2013
The 20th Annual RESOLVE New England Conference on Fertility Treatment, Donor Choices and Adoption will feature three clinicians from the Reproductive Science Center of New England. Samuel Pang, MD, Kristen Wright, MD, and Adele Kauffman, PhD will discuss important topics of interest on fertility to both patients and clinicians alike. This conference is being held on Saturday November 2nd from 8am-5pm at the Best Western Royal Plaza Hotel, Marlborough, MA.
Dr. Samuel Pang will lead a session entitled Diminished Ovarian Reserve: What It Means and Treatment Options. This session will focus on how female fertility decreases with age, the impact age can have on the quality of eggs and a healthy pregnancy, and the options women have available to either preserve fertility when they are young or alternatives to using their own eggs if that is not an option. In addition, Dr. Pang will also conduct a session on LGBT Family Formation.
Dr. Kristen Wright will present a session entitled, When Treatment Isn't Working, dur which she will discuss how fertility treatment plans should be continuously monitored and adjusted over time if there is not a resulting pregnancy. The issue of when to seek a second opinion will also be addressed.
Dr. Adele Kauffman will co-present a session on Surrogacy and Donor: Psychological Aspects and Disclosure. This workshop discusses the emotional and ethical issues for men and women, secrecy vs. privacy and deciding how and when to talk with a child and others about donor egg, donor sperm and surrogacy.
The Keynote address, On being 'normal', will be given by Elizabeth Jordan Carr, the first baby born through in-vitro fertilization in 1981.
Pre-registration is preferred, and financial scholarships are available from RESOLVE to cover half or all of the cost to attend. Also, CEU credits are available for clinical personnel.
Reproductive Science Center of New England helps people achieve healthy pregnancies by providing the most advanced fertility solutions and exceptional patient care. RSCNE is proud to be a nationally recognized Top 10 Fertility Treatment Center and our award-winning physicians and Center of Excellence distinctions ensure patients will receive the highest quality care and best outcomes throughout your journey to parenthood. With 11 convenient locations across New England and a proven record of success, RSCNE is dedicated to helping couples realize their family dreams.
Since 1974, RESOLVE New England has been the leading voice and progressive driving force connecting the New England community on the many paths to parenthood.