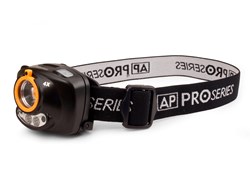 The AP ProSeries 100 Lumens Head Torch. Superb on/off motion sensor controlled by hand movement. See the full range at www.approseries.co.uk.
(PRWEB UK) 31 October 2013
Formed in Essex in 2003, Active Products have established themselves as reputable manufacturers of high-quality, durable and affordable range of torches with incredible beam performance. The AP ProSeries is aimed at both the professional tradesman and consumer market, incorporating the latest market-leading technology with Cree's new LED bulb. This energy-efficient miniature marvel pumps out double the light, running 50,000 hours longer than a standard LED bulb.
The launch of the AP ProSeries website heralds a new chapter for the manufacturer. Sales Director Ted McLoughlin comments, "We've seen a marked increase in consumers' demand for better quality, longer lasting torches. With that demand we've noted that consumers want to know more about the performance, the durability and efficiency of the product they are buying. The packaging on our AP ProSeries range uses a series of icons to easily explain to consumers the outputs and features of our popular AP ProSeries torches. Similarly, the new website aims to showcase our products and information about their use. We also offer a 'Find a Retailer' feature, helping consumers connect with retailers to buy a product, which will be enabled soon."
The new website for the AP ProSeries helps to demonstrate the versatility of the range via the professional use category. For example, the 220 lumens spotlight, with its hands-free operation, is ideal for use by tradesmen and DIY enthusiasts in low light or no light areas. The ProSeries head torch is ideal for outdoor leisure users, such as cycling or running at night, while other torches in the range show the wide variety of uses, from security workers, dog walkers, camping use, in cellars, DIY projects or car glove compartments.
The AP ProSeries range can be found at the likes of B&Q, Arco, Stearn, Stax, Halfords online, Wickes, Homebase and Maplin to name a few. With extensive battery life and a high level of performance, the entire AP ProSeries range is designed to be durable, dependable and ideal for the home, car, outdoor and leisure use and offers consumers a premium quality product at an affordable price.
Visit Active Products' new AP ProSeries website here to discover the full AP ProSeries range.