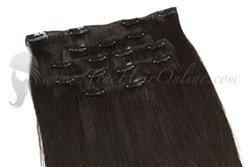 Clip-in extensions are easy to install they can be used to add volume or length to short or long hair.
Chicago, IL (PRWEB) November 08, 2013
Many types of hair extensions require the expertise of a salon professional for proper installation. Chicago-based hair extension company True Hair says that, by contrast, clip-in style extensions are easy to install and offer many of the benefits of more complicated extensions. Unlike sew-in weaves or fusion extensions, True Hair explains, clip-in extensions can be installed at home.
TrueHair clip-in extensions are temporary and removable. Small plastic clips secure the extensions to the wearer's hair. The installation process only requires the extensions, a comb and standard hair clips. True Hair generally instructs its customers to remove clip-in extensions before bed, washing and drying them.
The company is convinced that the many benefits of clip-in extensions will make them a very attractive option for customers, especially those interested in trying hair extensions for the first time. True Hair says that this style of extension is extremely versatile, offering temporary body or fullness for all hair types and an easy way for women with longer hair to create highlights or low-lights to their already long hair. Since these undetectable extensions are temporary and will not alter or damage the wearer's own hair, True Hair recommends them for one-time events like weddings or parties. Wearers can cut, color, curl and style clip-ins in the same way as natural hair. True Hair offers clip-in extensions in lengths from 16 to 20 inches, made from tangle-free, double-drawn 100-percent Malaysian human hair.
The company emphasizes that although clip-in extensions are notorious for lower-quality hair that won't last, True Hair extensions are high-quality, 100-percent human hair that is guaranteed to last for at least one year with proper care. While many other companies' extensions will only last up to three months, says True Hair CEO Adrianna Hudson, TrueHair clip in extensions will prove to be an excellent value for wearers, especially since it is not necessary to pay a stylist to install them.
About TrueHair Company LLC,
True Hair Company is a premier retailer in Chicago, IL offering the highest quality hair extensions that blend seamlessly with your natural hair. We aim to provide 100% virgin and natural human hair for women of all ethnicities and backgrounds.http://www.truehaironline.com