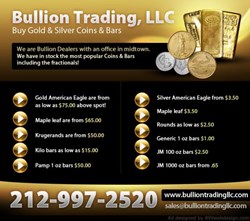 Despite the Indian government's recent dilemma, Bullion Trading LLC - New York's premier bullion dealers; are ready to light up the Diwali festival season with Gold and Silver.
New York, New York (PRWEB) October 30, 2013
India, the world's biggest consumer of gold according to WGC, will definitely feel the drought this holiday season. Kitco News recently reported its bad news for the gold market with India not importing as much metal as usual during the run-up ahead of the gift-giving season, analysts have said. Indians still want gold, as reflected by soaring premiums; they just can't get it easily due to government restrictions.
Battling a huge trade deficit and a weak currency, the government has taken various steps this year to make it harder and more expensive for Indians to get a hold of gold. Despite the Indian government's recent dilemma, Bullion Trading LLC - New York's premier bullion dealers; are ready to light up the Diwali festival season with Gold and Silver.
The aftermath of the Dussehra and the Lakshmi festivals left people feeling the shortage even more so when Indian gold premiums soared to more than $100.00 USD an ounce over London prices. Even with the new import shipment for domestic use, premiums are still certain to rise to almost $150.00 USD an ounce if not more. Yet, in the meanwhile, BTLLC maintains their fixed premiums that range from $40.00 USD to $65.00 USD above spot. With the next festivals, Diwali and Dhanteras, falling the first week of November there's a sudden panic to find the precious gold coins or silver bars. This is the reason why Bullion Trading can offer their gold and silver for such a low set price. On BullionTradingllc.com, the online eCommerce store, it cites on its homepage, "Our metals are bought directly from the market without the use of middlemen or intermediaries who add on their margins and trading fees.
According to a recent Forbes press release, hardly any gold was imported in the last two months until mid-September, and the industry is still feeling the pinch, especially now the festival season has started, a peak period for demand. Many of India's top bullion and jewelry markets are turning customer away due to lack of stock. Stock is so depleted that wholesalers have even stopped answering their phones because of the large drought. Unaffected by such depletion's, Bullion Trading LLC, maintains a large amount of stock ranging from the Canadian Maple Leaf coins, 100 gram PAMP Suisse Bars, to 1 ounce OPM Bars, and so much more. "The restrictions put on gold importing isn't recent news to anyone who watches the market. The Indian government is trying to regulate economic stimulus by raising taxes on consumers outsourcing for precious metals. I've been in the business for over twenty years, and I always make sure our inventory is well prepared especially during the festival season." – Isaac Kahan.
November 3, 2013 marks the start of one of the biggest Indian festival's Diwali - "festival of lights". During Diwali, all the celebrants wear new clothes; adorn new bobbles to share with family members and friends, and most importantly the exchange of gold and silver gifts. This hectic festival season is also an auspicious time for precious metal purchases in India. People buy jewelry, gold coins, silver coins, gold bars, silver bars, and other gift items in reverence to Goddess Lakshmi, the Hindu goddess of wealth and prosperity. The Economic Times cites "Rural India generally contributes 60%-70% of country's total gold consumption which is likely to be around 750 tonne this year. The trade feels that demand for silver will rise this year as the rural belles generally like to wear heavy jewelry which they will not be able to make out of gold."
Diwali also marks the beginning of the Indian wedding season. A sales representative of BTLLC stated, "Demands are definitely at an all time high for physical metals ahead of a number of gift-giving holidays around the world, not just the Diwali festival." It is deeply embedded in many cultures to give gold and silver ornaments as wedding gifts and thus this season marks a strong demand of gold. Bullion Trading LLC has been operational for over twenty years doing $150 million in annual transactions. We understand the business, but better yet we understand what our customers demand.
So, whether you are an industrial manufacturer, jeweler or investor, Bullion Trading LLC will provide the security and flexibility to trade with confidence that you will get the official market price at the time your order is processed. Check out our online catalog and order from the comfort of your home, or stop by in person at our office located in Midtown, Manhattan. We look forward to having you as a customer.