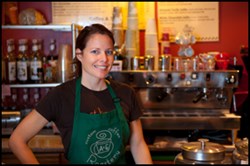 Becoming licensed as a Q Grader adds a tremendous amount of legitimacy to our coffee program.
Amherst, NH (PRWEB) October 30, 2013
Emeran Langmaid, owner of A&E Custom Coffee Roastery recently qualified as a Licensed Q Grader, the coffee industry's highest standard for grading coffee. Langmaid passed all 22 sections of the rigorous three-day Q Grader exam to become among the world's top coffee specialists.
The Q Grader program is a specialty-coffee quality-assurance program overseen by the Coffee Quality Institute, the charitable arm of the Specialty Coffee Association of America (SCAA). The Q Coffee System is internationally recognized and utilized as the primary instrument to uphold specialty coffee standards. The SCAA has been setting quality standards within the coffee trade for more than 25 years. The program creates a baseline of communication to ensure quality coffee controls the world over.
"Q Graders are not supposed to have any preconceived notions about a coffee. Instead you use the index of all the coffees you've tasted to put concrete values on the coffee," Langmaid said. "Becoming licensed as a Q Grader adds a tremendous amount of legitimacy to our coffee program."
Langmaid anticipates using the professional accreditation when she moves into direct sourcing coffee.
"I'll put this knowledge into practice next year when we begin visiting origin countries. The Q Grader license will give me a litmus test to sample coffees and negotiate prices based on quality and consistency. It will allow me to ensure the quality of the coffee we purchase, both when we source it and when it arrives locally."
There are just more than 1,000 Licensed Q-Graders. To quantify, there are more billionaires on the 2013 Forbes Billionaires list (1,426) than there are Licensed Q Graders worldwide.
According to SCAA standards, a coffee that receives a score of 80 or above is considered specialty, Q Coffees provide an assurance of quality that consumers can trust. While many variables in roasting and brewing affect the taste of coffee, Q Coffees confirm that the beans being used are among the highest quality in the world – properly milled and having distinguishable characteristics that separate them from other coffees. A good bean is the first step toward achieving a perfect cup of coffee.
The painstaking three-day exam tests for mastery of subjects including green-coffee grading, roast-color identification, coffee cupping, sensory skills and sensory triangulation. Fewer than 40 percent of applicants pass the exam on their first attempt. This was Langmaid's first effort and she passed all 22 sections. The Q Grader certification is valid for 3 years. Every 36 months, Q Graders are required to pass a calibration to renew their prestigious title.
"The three-day test is intense predominantly because you have to be so focused on everything at once," Langmaid said. "When the coffee is hot, you assess the flavor and aftertaste. As it cools, you assess for body. Then, when it's room temperature, you make a second assessment of everything. You can't let your mind wander for a moment!"
About the Specialty Coffee Association of America
Established in 1982 by a small group of coffee professionals seeking a common forum to discuss issues and set quality standards for the specialty coffee trade, the SCAA is now the world's largest coffee trade association with nearly 3,000 company members. SCAA members can rightfully be credited for much of the growth and success the specialty coffee industry has experienced over the past twenty-five years. For more information on the SCAA, visit http://www.scaa.org.
About A&E Coffee
Established in 2001, A&E Custom Coffee Roastery provides each customer with personalized service and the freshest coffee and tea possible in a business that promotes environmental stewardship and economic fairness to growers. The company offers a variety of certified-organic, shade-grown, Fair Trade coffees from around the world. Owner Emeran Langmaid and Roastmaster Adam Langmaid custom roast each batch in the Amherst café, guaranteeing the freshest, most flavorful coffee possible.
A&E Custom Coffee Roastery was voted Best Cup of Coffee by Hippo readers for the past three years, Best of Souhegan Valley for the past three years and Best of New Hampshire by New Hampshire Magazine every year from 2006 to 2010. In addition, several individual coffee offerings have received national recognition.
For more information about the company, please visit http://www.aeroastery.com or its Facebook page: http://www.facebook.com/aeroastery.