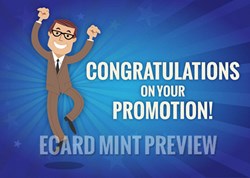 (PRWEB) October 31, 2013
Premium consumer ecard creator Katie's Cards announce the launch of their new corporate Ecards website http://www.ecardmint.com, just in time for Christmas. The new site will provide improved functionality and Ecard customization options and a user friendly, intuitive Ecard management system. Ecard Mint offers corporate clients the facility to send creative Ecards, email marketing and mail-outs to customers, staff and stakeholders throughout the year, not just at Christmas. A wide array of categories will be available on the website including birthdays, promotions, appreciation, announcements, invites and a variety of other corporate applications. The tools enable businesses to enhance engagement with customers and staff with the benefits of of boosting marketing channels and conveying an environmentally friendly, socially aware ethos. The launch comes just in time to capitalise on the seasonal Christmas period by sending seasonal e-greetings to prospective recipients.
The Christmas period is an important time for businesses to connect and effectively market their business and Christmas Company Ecards are cost effective method of connecting and, with the exposure you gain for your business, have the potential to yield high returns on your investment. Other important ecard categories that will be available on the new website include a collection of appreciative and informative ecards. Sending e-greetings to say 'thank you for your business', product announcements and event invites can offer significant advantages for businesses. By recognising and appreciating hard work of employees and acknowledging and informing customers in a fun and entertaining way, businesses increase motivation within the workplace, have the opportunity to build relationships and loyalty whilst also expanding brand awareness.
Other services available on their website include a facility to choose an existing seasonal E-card and adapt it for your business or organisation then customise it by adding your logo, website address and messages. Alternatively commission a one off, original animated E-card or Ecard Game, tailored specifically for your business or organisation and can incorporate products, services, workplace or staff.
Ecard Mint provide a high quality solution to your ecard needs offering unique and original Ecard designs for all occasions and events. The website will be white labelled, integrating a highly efficient third party email system, equipped to handle large quantities of emails for use with ecard notifications, customer communication, mail out newsletters and promotions offering the confidence that they will be delivered. Ecard Mint provides an ecofriendly, desirable and original solution to your online marketing and communications. Visit their blog for updates on new designs and launch dates.
For more information:
Telephone: +44 (0)20 8274 2069
Email: info(at)ecardmint(dot)com
Copyright information: This article is free for reproduction but must be reproduced in its entirety, including live links & images; this copyright statement must be included.