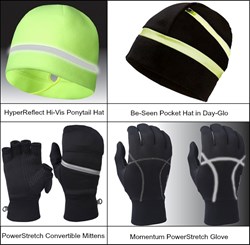 Kent, C.T. (PRWEB) October 30, 2013
TrailHeads new "Be-Safe, Be-Seen" Collection helps runners stay visible in the dark. As the end of Daylight Savings Time approaches, outdoor fitness enthusiasts face colder weather and shorter days. The stylish and reflective designs from TrailHeads' new collection will help any runner combat the season change, and keep to their fitness routine.
The HyperReflect Hi-Vis Ponytail Hat is made in the USA, and tackles both the cold and the dark with its creative design. Made with TrailHeads' signature ponytail loop, women can easily secure their hair while running and experience a snug and comfortable fit that traditional hats don't offer. The Day-Glo fleece and 360-degree reflective accent ensure that runners will be seen from every angle while in the dark. This hat also features a moisture-wicking Polartec® fleece and 2-layer earband to keep the wearer warm and dry in any type of weather.
The Be-Seen Pocket Hat in Day-Glo, also made in the USA, provides the visibility needed in darker weather – with an added place to store your valuables. IDs, keys, and money can be stowed away in the hat's zippered pocket. This style is available for both men and women. Available in black with a 360-degree reflective accent, the Be-Seen Pocket Hat will match any runner's style while keeping them safe and seen.
TrailHeads' Power Stretch® Convertible Mittens are an ideal choice for the all season runner. As you warm up during a vigorous workout, the Power Stretch Convertible Mitten can be pulled back to function as a fingerless glove. A magnet keeps the thumb flap secure while a stash pocket allows the finger flap to be tucked away. The reflective strip is visible in both glove and mitten form.
The Momentum Power Stretch® Glove features three-part 3M® reflective stitching across the back, unique to the TrailHeads' collection. Double layer cuffs ensure a secure fit, while the Power Stretch®, moisture wicking fabric provides extra warmth to the wearer. Resistant to both wind and water, the glove is also breathable to combat interior moisture during workouts.
Styles from the "Be-Safe, Be-Seen" Collection can be found online at http://www.TrailHeads.com.
###
About TrailHeads
TrailHeads creates inspired designs for a diverse range of outdoor activities. Since its founding in 2002, TrailHeads has devoted its energy to innovation, fit, performance, comfort and quality. Best known for its Goodbye Girl Ponytail collection, a series of ponytail-compatible winter and summer caps for women, TrailHeads aims to design products for outdoor enthusiasts with performance-driven, aesthetically-minded and environmentally-aware apparel.
All product development and design takes place at TrailHeads' solar-powered office located near the Appalachian Trail in Kent, CT. Hands-on, flexible production takes place in New England and select international partner factories, with a number of products made entirely in the United States. TrailHeads products are sold throughout the U.S. and a growing number of countries around the world. To learn more, visit http://www.trailheads.com.
https://www.facebook.com/TrailHeadsUSA
https://twitter.com/TrailHeadsCT