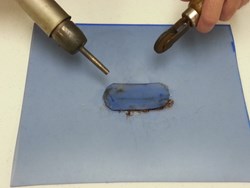 Although it is an easy task I think it is invaluable to be able to show through video how to perform this task.
Claremore, OK (PRWEB) October 31, 2013
It has been said that a picture is worth a thousand words. How many words then is a video worth? Witt Lining Systems believes that videos can be priceless when it comes to illustrating the features and benefits of a flexible PVC tank liner.
One of the many benefits of a PVC drop in liner is that it easily repaired if damaged. Previously instructions on how to make a repair had only been available in written form. Recognizing the need for greater detail on making repairs, company president Andrew Hotchkies embarked on producing a series of videos showing step by step how a repair can be made. "I looked around and saw that there simply wasn't anything relevant to industrial tank liners when it came to showing how to repair them. Although it is an easy task I think it is invaluable to be able to show through video how to make a repair." Hotchkies said.
Two different repair instruction videos have been made. One shows how to make a repair with a hot air welder and the other video shows how to make a repair with PVC adhesive. Both videos feature Witt Lining Systems Vice-President Jeff Raymond who has over 20 years experience with repairing liners. The videos are available for viewing at the company's YouTube page.
As the two videos were being made, Hotchkies recognized that a whole series of videos could be made showing other features of drop in liners. "We have already shot videos on how to use our Wittclips™ and installation of a bulkhead fitting and will have them available soon. We are getting to work on other videos and in particular one that features Koroseal® PVC liner with an LFP CrossFilm™ skirt that provides the longest liner service life for hard chrome plating," said Hotchkies. Hotchkies concluded, "Just as we have been the industry leader in the flexible PVC liner market, we intend to also be the leader in providing valuable and timely information to the market place."
Witt Lining Systems is located in Claremore, Oklahoma. The company manufactures flexible PVC liners used for corrosion resistance in process tanks, storage tanks, vats, sumps, pits, and containment areas. PVC brands include Spectra Blue™ PVC liner, Exceline™ PVC liner and Koroseal® PVC liner along with NSF-61 PVC and LFP CrossFilm™. For more information contact 1-800-323-3335 or visit http://www.wittliners.com.