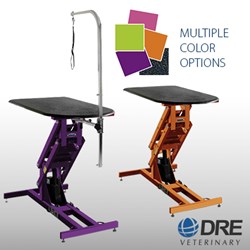 Each table is made of quality materials with DRE's low price guarantee, and customers can easily select which model suits their exact needs.
Louisville, KY (PRWEB) October 31, 2013
DRE Veterinary's new line-up of tables features several models that could easily become an integral part of any animal practice. Each table is made of quality materials, and customers can easily select which model suits their exact needs.
The six recently added tables from DRE Veterinary can be divided into smaller groups, the first being three customizable grooming tables.
The DRE Classic Electric Grooming Table features an easy to clean polyurethane coated table-top that measures 40 inches long and 26 inches wide. Animals up to 200 pounds can be lifted on to the table, where the table height can be controlled from both sides of the device. Optional accessories include a removable grooming arm.
Similar features are found on the DRE Elite Electric Grooming Table in regards to size and height, but the DRE Elite has its own permanent grooming arm that rotates 180 degrees around the end of the table. The arm also can be locked into five different horizontal positions ranging from 22 to 39 inches vertically. The DRE Elite Electric Grooming table is CSA and UL certified.
The DRE Elite Hydraulic Grooming Table boasts similar capabilities to the DRE Elite, but it can lift animals up to 250 pounds, 50 pounds heavier than both previous models. The DRE Classic, Elite Electric and Elite Hydraulic grooming tables also come in five bright, noticeable colors: green, orange, purple, pink, and silver texture.
The second group includes three high-quality veterinary exam tables at a competitive, low price. The DRE Economy Electric Lift Table's table top measures 46 by 25 inches and made of stainless steel. Both this model and the DRE Economy Hydraulic Lift Table can hold up to 250 pounds and can be adjusted between 20 and 41 inches in height.
This new line-up of tables is completed by the DRE Lateral Mount Exam Table, a versatile model that can be folded up to the wall when not in use. The DRE Lateral Mount table is 968 square inches (44" wide by 22" long) of 20-gauge stainless steel with an optional laminate top. When folded, the table only protrudes from the wall about five inches.
Nathan Claypool, director of sales at DRE Veterinary, said the company is committed to giving customers a variety of choices when it comes to medical equipment.
"We know that each veterinary practice is unique," Claypool said. "They each have their own needs, and DRE Veterinary strives to offer products that will serve them best."
Claypool is confident that the quality, versatility and variation of this new line-up of veterinary tables will help the mission of any veterinary practice — to help animals and their families in the most effective, safe and efficient way possible.
About DRE Veterinary
For over 25 years, DRE Veterinary has worked with many of North America's top veterinary facilities and organizations. They provide products and services that make sense, save their client's time and money, and allow veterinary surgeons to do the things they do best. DRE Veterinary is located in Louisville, Ky.