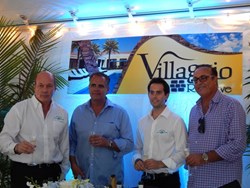 Boynton Beach, FL (PRWEB) November 01, 2013
The highly anticipated pre-grand opening sales event at Villaggio Reserve entertained more than 1,400 prospective buyers earlier this month and provided an insider's look at Delray Beach's latest, most celebrated resort-style destination for residents 55 and over.
From the moment they passed the gatehouse, the lush landscaping and gold-on-marble entrance sign, attendees knew they were participating in something important. The highly-anticipated event at the community rising on Hagen-Ranch Road and Atlantic Avenue included hors d'oeuvres and beverages served by more than 75 waiters and staffers – and a showcase for a remarkable neighborhood.
"Trollies were shuttling people non-stop from the overflow parking facilities. People wanted to be first to see beyond the gates into what promises to be Delray Beach's next great community," said Ron Yuter, Senior Vice President with developer Ansca Homes. "The tent was beyond comparison for attendees, many of whom had bought from Ansca Homes in the past and knew they would be treated to a spectacular event. They got what they came for."
What they got was a chance to participate in a spectacularly-planned event for an outstanding community, where homes start in the $300,000s. Linens and indirect lighting matched the community's yellow and blue theme. Attendees shot photographs with new homes as the backdrop.
Interested buyers sat with sales associates to learn more about the residences, features, amenities and offerings. They also reviewed a brochure with floor plans and lot choices. They learned about the European-style streets and lighting and the planned Sales Center and Model Row. They marveled at the Cabana Club Clubhouse, Villaggio Reserve's 38,000-square-foot centerpiece. Within the complex will be a Grand Ballroom, multipurpose rooms, four pools, tennis courts and a plethora of activities and dining options.
Numerous of attendees signed transactions and will return in the days and weeks ahead to finalize their plans. With this level of activity, Ansca Homes' architects will begin planning neighborhood configurations.
"We've done these events for a generation, and even we were surprised at the unbelievable response everyone had to the product," Yuter said. "This is Delray Beach's last hoorah for the 55 and over resort marketplace. From the time they saw the billboards and balloons along the Turnpike to the moment they entered the community, people were impressed."
Those interested in learning more about the development can visit http://www.VillaggioReserve.com or call (855)230-1858.
About the Company. Ansca Homes has grown into a leading Florida home builder proudly led by the experience of Angelo Scardina; his son Charles Scardina, president of the company; his son-in-law Ramsey Akel, vice-president; and his grandson Charles Scardina Jr., representing the next generation. With the vision and resources to continue to create homes and new home communities that feature uncompromising excellence and attention to detail, Ansca Homes continues to lead the way.
The success of Ansca Homes has always been achieved by adhering to basic principles: create the best and the most lifestyle-enhancing homes in both active adult and family communities; build homes of superior quality that provide unsurpassed value and comfort for its customers; and operate the privately-held family business ethically, astutely and insightfully.