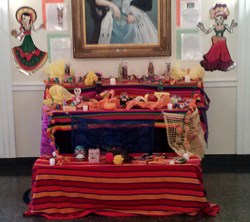 Willoughby, OH (PRWEB) November 01, 2013
Embedding culture into the classroom is an essential part of the education that students experience in the foreign language program and throughout the general curriculum at Andrews Osborne Academy (AOA). With a focus on understanding global perspectives and communities, as part of AOA's mission, students explore the practices and products that shape how societies think and see the world.
This week students who study Spanish have looked into the Mexican holiday known as El día de los muertos or the Day of the Dead. This practice with roots in Aztec tradition and Catholicism celebrates the memories of deceased loved-ones while honoring and, at the same time, poking fun at death which is seen as an essential part of life by many Mexican communities.
Spanish students at AOA built an all school representation of an altar that at this time of year fills many homes in southern Mexico, while Mandarin Chinese students have built a similar altar for Hungry Ghost Day or Zhōng Yuán Jié, which is celebrated in August in parts of China. The altars were placed under the portrait of the school's patron and namesake – Mrs. Margaret St. John Andrews. The colorful, Mexican altar is trimmed with traditional sugar skulls that were decorated by the 7th grade Spanish class and other authentic products that are typically found on these altars. In Mexican society, it is not that death is welcomed but it is not feared. For those who follow the practice of Day of the Dead, much time is spent saving money to buy the favorite food and drinks of loved-ones who have passed on. By presenting their favorite foods and mementos of pastimes, it is believed that their spirits return to candlelit cemeteries while celebrating with food, music and family unity. On Friday, all Spanish students will partake in the practice of sharing some traditional food and drink like hibiscus juice and tamales.
When we hear in education that students must be equipped with 21st century skills and have global competency, teachers and programs that follow the National Foreign Language Standards and the newly adopted Ohio World Language Standards know that culture is at the crux of communication. Andrews Osborne Academy's foreign language program embeds the products, practices and perspectives of global communities into its classes and framework, and, moreover, AOA does this through the general fabric of the school, its mission and its global studies program. Because of the commitment to an international community, AOA students are experiencing daily what so many schools are hoping that their students achieve.
Andrews Osborne Academy (AOA) is an independent, college preparatory day (grades Pre-Kindergarten through 12th) and boarding (7-12) school near Cleveland, on a beautiful 300 acre campus located in Willoughby, Ohio. Our Academy offers elementary, middle and secondary education to committed students in a multicultural setting. Enrollment opportunities for the 2013-14 school year are available. Contact the Office of Admission to arrange a tour at 440-942-3600 or visit our website at http://www.andrewsosborne.org.