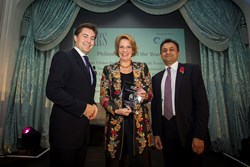 With Localgiving.com, Marcelle Speller has made philanthropy accessible to all and a daily activity. She has been truly innovative.
London, UK (PRWEB UK) 30 October 2013
The judges said: "The Winner of Philanthropist of the Year had a simple but clever idea, using her experience as an internet entrepreneur to a philanthropic end. With Localgiving.com, Marcelle Speller has made philanthropy accessible to all and a daily activity. She has been truly innovative."
Speller says she is delighted to receive the award: "Thank you so much for the Philanthropist of the Year award," says Speller. "It really helps us to shine a light on the small local charities helped by Localgiving.com."
Speller founded online fundraising platform Localgiving.com as a not-for-profit social enterprise in 2009 with the aim of helping local charities and voluntary groups to raise funds and enabling people who care about their communities to find and support local charities.
Localgiving.com has nearly 4,000 local charities and community groups on its website, and a database of over 40,000 registered supporters. Many of the community groups on Localgiving.com are too small to register with the Charity Commission are therefore excluded from other fundraising platforms. Not only does Localgiving.com enable these groups to raise funds but it has special arrangements with HMRC which allow them to benefit from Gift Aid. Furthermore, all charities and groups are validated either centrally by Localgiving.com or by their local Community Foundation.
Localgiving.com is also the UK's leading platform for distributing match funds to local charities such as the current Grow Your Tenner campaign which will turn £500,000 from the Cabinet Office into more than £1.2m for local charities in England.
In an environment where the 5% of the largest, national and international charities receive 85% of charitable donations, Localgiving.com has raised almost £5m for local charities and is helping to democratise giving by allowing large numbers of people to give money to the often invisible groups that are the bedrock of our local communities.
ENDS
October 30, 2013
For more information and images contact Mandy Green at press(at)localgiving(dot)com or call 0300 111 2340
Marcelle Speller, OBE
Founder and Chief Executive, Localgiving.com
Marcelle Speller, OBE, is the founder, chief executive and sponsor of Localgiving.com which provides small, local charities and community groups across the UK with an online fundraising platform to help them become more sustainable. She is also a trustee of the Community Foundation Network and founder of the Ardbrack Foundation, a personal foundation with a mission to enable philanthropic giving to local charities and community groups.
With an MBA from INSEAD, Marcelle worked in director and board level marketing positions with multinational companies, including American Express, Avis and Inter-Continental Hotels. She also spent more than 10 years in leading advertising agencies in London and Amsterdam.
In 1996, Marcelle co-founded Holiday-Rentals.com, which became Europe's leading website for advertising private holiday homes. Nine years later, the company was sold and, following a workshop at the Institute for Philanthropy, Marcelle was inspired to launch Localgiving.com.
Marcelle received an OBE in June 2011 for her extensive work in philanthropy and a Beacon Award in February 2013.