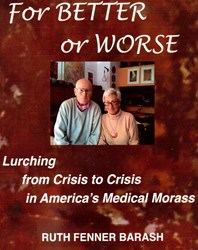 New York, NY (PRWEB) October 31, 2013
Ruth Fenner Barash's new book, "For Better or Worse: Lurching from Crisis to Crisis in America's Medical Morass," reveals the health-care nightmare that is, for many, the American medical system today.
Her health-care nightmare is a cautionary tale that traces the long death of her husband, Philip, through a medical journey fraught with mismanagement and excess, useless interventions and a sometimes complete disregard for pain – even when there was no hope of healing.
The Barashes were a long-married couple who tried to keep their heads above the quicksand of illness. Their journey is a critical and moving look at a medical system that prioritizes itself above its patients, creating a health-care nightmare.
"For Better or Worse" is the story of a man who, not through his own choice, overused the medical system, whom the system abused and who suffered a horrible dying. It's a lament about the state of our wildly expensive MD/hospital/Big Pharma complex that unwittingly creates a maze of unnecessary suffering for the patients, and their families, that it's supposed to help.
"Patients and their loved ones cannot blindly turn themselves over to this massive, technology-based system and trust that it will care – or take care of them," says Barash, who had always expected much more from America's medical system. "We did experience some wonderful health-care professionals – brilliant, compassionate and helpful people – but they were not the rule. I learned a great deal from our experience, and with so many people now gaining access to health care, I want others to benefit from what I've learned. You can navigate the system; you just have to know how."
Each one of us has a stake in advocating for a better health-care system; one that puts the emphasis on the patient and not gratuitous tests, technology or insurance plans, she says. Until we get to that point as a nation, she says there are many things patients and their families can do to improve the medical experience, including avoiding the emergency room whenever possible, being skeptical and questioning everything, and asking about the costs – no matter who's paying.
About Ruth Fenner Barash
Ruth Fenner Barash studied philosophy at City College of New York and did graduate work at the University of Chicago. In 1958, she met and married Philip Barash, a private practice attorney. She went on to work in public relations and real estate, served education and civic organizations at the executive level, and taught art in various media. Her long marriage was a "harmonious adventure" despite the couple's treacherous journey through the health-care system. Her husband died in 2012.