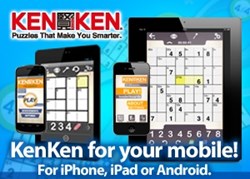 Just about everything is working with this app. The design is pleasing, the gameplay is solid, the puzzle variety is great.
Pleasantville, NY (PRWEB) October 31, 2013
KenKen, the newest and fastest growing brain exercising puzzle is "KENerating" great excitement among puzzlers and educators. Originally developed by the world renowned Japanese mathematics professor, Tetsuya Miyamoto, to improve logic, critical thinking, math abilities, and problem solving skills in school age children, KenKen has proven to be just as effective in improving brain function, and as importantly just as fun and addictive, for all ages.
Now carried in over 200 publications worldwide and with millions of puzzles solved each month online at http://www.kenken.com, in print, via the KenKen Classic app, and elsewhere, KenKen is the fastest growing and most popular puzzle since sudoku.
Here's what reviewers of the mobile app's are saying:
"Addictive and makes me feel smart!"
"More fun than sudoku"
"Awesomeness squared!"
"Totally addictive"
"Best puzzle ever!"
Will Shortz, NY Times and NPR's puzzle guru and a KenKen addict says, "KenKen is the most addictive puzzle since sudoku." Unlimited KenKen puzzles of all sizes and difficulty levels can be played for free on the KENKEN website. Games are also available on its mobile apps for iPad, iPhone and Android as well as in over 200 publications worldwide and over 50 KenKen books.
About KenKen®
KenKen® logic puzzles were first invented in Japan by Tetsuya Miyamoto (promoted as "Kashikoku Naru Puzzle" or the "Makes You Smarter" puzzle), and then brought to the rest of world through Nextoy, LLC. With the main goal being to improve students' cognitive abilities and critical thinking skills, he developed a brain stimulating exercise that would be understandable, fun and challenging not only for students, but for adults of all ages, nationalities, and abilities as well. Today, Mr. Miyomoto's vision has become a reality as KenKen has become the world's fastest growing logic puzzle and is available online at http://www.kenken.com, in the App Store, on Google Play, and in over 200 newspapers worldwide.