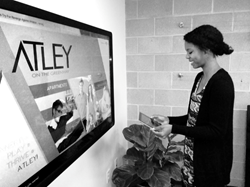 This feature streamlines and simplifies the process for leasing agents.
Denver, CO (PRWEB) October 31, 2013
Engrain (http://www.engrain.com), the leading provider of virtual tour and resident interaction systems, will soon release a powerful new functionality that will provide even greater data portability in its TouchTour product.
"TouchTour has always allowed prospective residents to save and retrieve information on the units that interest them," said Melissa Pasquale, vice president of product development at Engrain. "But our new 'cartwheel' feature lets users share those details with an iPad, or other system with just a sweep of their finger on the TouchTour screen. That simple, intuitive gesture takes data portability and convenience to a whole new level."
TouchTour units are large (42" to 80") multi-touch panels with a user interface and branding that is custom-crafted for each property. They are used by prospective residents and sales/leasing agents to provide in-depth virtual property tours, local area information and other services. When not in use by prospective or current residents, the screens display community notifications and other information.
"We understand the desire of leasing agents and property owners to steer prospective residents to the 'second screen,' and we've responded to that need," said Audrey Bolema, marketing and business development director at Engrain. "For example, the cartwheel feature will allow a prospect to start saving floor plans and photos of interest to a guest card on the TouchTour panel and move it effortlessly to an iPad to take with them on a physical tour of the property. This feature streamlines and simplifies the process for leasing agents. Not to mention the cool factor that comes along with it. In the rapidly evolving area of virtual property tours, we're very fortunate to have a sizable customer base with whom to collaborate on product features like cartwheel that will give them a competitive edge."
While still in programming, Engrain will notify its client's when the new cartwheel feature is available for implementation.
About Engrain
Engrain is a leading provider of immersive touch screen technology and award-winning digital branding and design services for the luxury real estate market. Its TouchTour™ system is used at some of the most prestigious properties in the country. Founded in 1995 and based in Denver, the company works with clients throughout the U.S.
For more information, please contact Audrey Bolema, 303-903-3863 or audrey (at) engrain (dot) com.