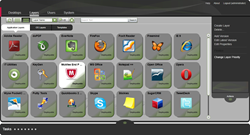 We have a workforce development program for software training for local companies. Now that we can make fast software changes on the fly with Unidesk and we have only one base image to manage, we'll be looking to take more advantage of that in the future.
Marlborough, Mass. (PRWEB) October 31, 2013
Managing nearly 600 lab desktops dispersed across a 246-acre campus was a real challenge for the five-person IT department at Southeastern Community College. Add nearly 200 more physical desktops used by faculty and staff, and it's impressive that other IT projects could even get done. The Whiteville, North Carolina College is now implementing Virtual Desktop Infrastructure (VDI) to make desktop patching, application updates, and break/fix easier and more efficient. SCC is also counting on VDI to expand lab access to students anywhere on campus and conserve energy in keeping with the college's green initiatives.
Today, the 250-user Phase 1 deployment is more than half-complete, and the benefits of VDI are already apparent. The combination of Dell PowerEdge servers and Dell EqualLogic storage to host virtual desktops, Unidesk® to provision and patch desktops and deliver required applications, and VMware Horizon View™ to provide secure desktop access is exceeding expectations.
"With so many physical PCs spread across campus, it took lot of manpower and time to update our lab software and our 24+ different Microsoft Windows images," said Jason Strickland, director of IT at Southeastern Community College. "We had a few concerns about VDI initially, but seeing the joint solution from Dell, Unidesk, and VMware in action at other customers gave us the confidence to move forward. We're glad we did, because we're already getting time back to tackle some of the IT projects that had been shelved due to resource constraints."
Unidesk is enabling SCC to build non-persistent virtual desktops for its student labs, as well as persistent desktops for its faculty and staff. The non-persistent desktops are automatically reset after each use. All customizations are wiped clean so each student has a fresh desktop from which to work. The persistent desktops preserve all customizations through desktop logoffs, reboots, Windows patches, and application updates. Faculty and staff enjoy having a consistent user experience that keeps their user-installed applications, plug-ins, preferences, and data.
With Unidesk, SCC's decision of whether to implement non-persistent or persistent desktops was based on use case, not storage or cost impact. Unidesk's patented layering technology stores single instances of Windows and application layers once for many desktops regardless of type, so persistent desktops are as storage-efficient as traditional non-persistent desktops.
"Unidesk's storage efficiency helped justify the purchase of a new Dell EqualLogic SAN array, which has a much lower total cost of ownership since we can fit three to four times as many desktops on it," added Strickland. "Each desktop uses only 4-8 GBs of storage, so we expect to scale well beyond our phase one deployment on our existing infrastructure."
Unidesk integrates with VMware Horizon View to insert its layered desktops directly into View pools. SCC students, faculty, and staff can access their Unidesk-provisioned VMs through the many client options supported by VMware View, including PCs, personal laptops, thin clients, and mobile devices. SCC is replacing the PCs with energy-efficient Dell Wyse zero clients to reduce monthly electric bills.
Delivering the many lab applications required for SCC coursework has been greatly simplified with Unidesk. Unidesk desktop layering technology provides the same modular application packaging and delivery benefits as application virtualization, but without the isolation side effects. Microsoft Office, Firefox, Google Chrome, Java Development Kits, Microsoft Visual Studio, Quickbooks, and numerous drivers and plug-ins are just some of the applications that are being delivered by SCC as Unidesk layers.
The ease and speed with which the SCC IT team can now package applications -- 20 minutes with application layering compared to as much as 8 hours with legacy application virtualization -- is also opening up new revenue opportunities for the college.
"We have a workforce development program that dedicates two labs on campus for software training for local companies," said Jason. "Now that we can make fast software changes on the fly with Unidesk and we have only one base image to manage, we'll be looking to take more advantage of that in the future."
Founded in 1964 as part of the North Carolina Community College System, SCC is a public, comprehensive community college providing individuals in Columbus County with accessible educational, cultural, and social opportunities designed to improve the quality of their lives. Utilizing multiple and alternate methods of instructional delivery, SCC provides learning experiences for those preparing for an occupation upon completion, for those in the work force seeking to enhance their knowledge and skills, and for those transferring to a baccalaureate institution.
Tweet This: Southeastern Community College simplifies lab management with #VDI using @DellEnterprise, @UnideskCorp and @vmwareview - http://bit.ly/1adMKZT.
To learn more about SCC's desktop virtualization initiative, attend the live webinar with Jason Strickland that will take place on Thursday, November 7 at 2:00 PM ET. Register here: http://www.unidesk.com/resources/webinars.
About Unidesk Corporation
Unidesk is enabling the movement of Microsoft Windows® desktops to the cloud. Unidesk's patented desktop layering software is the only effortless way for IT organizations to deliver applications, manage images, sustain user customizations, and optimize storage for Microsoft Windows® desktops virtualized on VMware vSphere®. Hundreds of Citrix XenDesktop® and VMware Horizon View™ customers use Unidesk to make VDI provisioning and Windows management elegantly simple. Unidesk is a privately held company headquartered in Marlborough, Mass., with authorized solution partners around the world. For more information, visit http://www.unidesk.com.
# # #
Unidesk is a registered trademark of Unidesk Corporation in the United States and/or other jurisdictions. All other trademarks and registered trademarks are property of their respective owners.