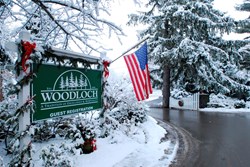 Our team at Woodoch Pines has committed to a new endeavor, The 12 Days of Giving Program, which will hopefully inspire others to pay it forward. The main goal is to lead by example in highlighting what this special time of year is all about.
Hawley, PA (PRWEB) October 30, 2013
This holiday season, Woodloch Resort, an all-inclusive family resort in the Pocono Mountains, will feature annual traditions such as Yule Log Hunts, carriage rides, light shows, festive decorations, and Winter Olympics. Woodloch boasts a 60% repeat guest ratio, with many of these guests embracing the resort's seasonal spirit as their very own yearly custom. There is a fresh tingle in the air this holiday season, however, as guests can partake in additional innovative holiday offerings.
Woodloch Pines recognizes that the commercialization of the holidays has seemed to create a "bah humbug" effect for many. A common struggle for parents today is to find a way to instill the true importance of the holiday season in their children in a meaningful fashion. In an effort to aid in this process, Woodloch Pines wanted to make a BIG impact and allow guests and staff to give back in a particularly extensive and unique manner.
"Our team at Woodoch Pines has committed to a new endeavor, The 12 Days of Giving Program, which will hopefully inspire others to pay it forward. The main goal is to lead by example in highlighting what this special time of year is all about," explains owner and general manager, John Kiesendahl. "To kick off our 12 Days of Giving, we will be hosting an event with the goal of beating the Guinness World Record for the most hunger relief packages assembled in three minutes," Kiesendahl continued. "We chose to focus on 12 random days between Thanksgiving and Christmas in order to commemorate each month of the year in addition to adding an element of surprise." The staff excitement and interaction will be recorded and shared on the family resort's blog, WoodlochEdge.
On Saturday, November 23 at 2 PM, staff, guests and community members alike will gather in the Nightclub at Woodloch Pines Resort. Food items that keep with the theme of "everything but the turkey" will be gathered and bagged and given to local charities in Northeast Pennsylvania. The goal will be to make over 650 bags in just three short minutes. Leading up to the Woodloch Hunger Relief event, staff and guests will be encouraged to donate canned and boxed food items. The all-inclusive resort and its primary foodservice supplier, Pocono ProFoods, will also donate goods to ensure a hearty supply. The event will be filmed, and the Guinness Book of World Records will review the video for consideration to receive the prestigious award.
In addition to these hunger relief efforts, the team at Woodloch Pines has committed to a challenging plan to keep the spirit of giving thriving throughout the season. Additional activities will include:
1. Breaking Hunger, Breaking Records: Assemble the most hunger relief bags simultaneously.
2. Coffee Shop Take Over: The Woodloch Crew will make an appearance at a Scranton coffee house and pay for everyone's drinks for an hour.
3. Hug Deliveries: Because sometimes people just need a hug.
4. Operation Christmas Child: Delivering love and hope in the form of shoe boxes to children around the world.
5. Adopt a Family: Providing a very happy holiday for a few local families.
6. Food Banking: The Woodloch Crew will take over a Scranton area grocery store collecting non-perishable foods to donate to a local food bank.
7. Angel Tree: Collecting donations through the holidays for the Salvation Army.
8. Show on the Road: The Woodloch Crew will perform a mobile Christmas show through a few Scranton area hospitals.
9. Random Gifting: The Woodloch Crew will be out and about hand-delivering pre-paid Visa gift cards to random shoppers.
10. Read to a Child: The Woodloch Crew will bring their animated personalities to Scranton area childcare centers for some festive holiday story time.
11. Toys for Tots: Giving military families a little something extra for the kids.
12. Thank an Employee: The Woodloch Family will reward several randomly selected employees with a full tank of gas and a few extra dollars in their hands for the holidays.
The family resort's annual array of winter holiday offerings is always fun-filled and festive. Seasonal activities include:

Yule Log Hunt available during December weekends
Holiday Craft Fair featuring over 40 local craft vendors providing a one-stop, artisan, handmade holiday shopping experience
A picturesque wagon ride through an illuminated trail on their annual "Festival of Lights" tours
"Gingerbread Wars" where guests assemble a task force and compete against other teams in a very unique culinary decorating contest involving elaborate gingerbread houses.
Winter Olympics- limber up for six fun and frosty events in the snow to compete for the coveted Woodloch gold medal.
Winter Archery, new for 2013-14, features targets set amongst the resort's beautiful Pocono backdrop
Winter Paintball leads guests through three skirmishes and 250 paintballs.
Patrons can also expect walnut hunts for children, spirited caroling, and delicious holiday baked goods.
Holiday packages are available every weekend in the month of December with all-inclusive adult rates starting at $199 per night/per person. More information can be found at woodloch.com.
About Woodloch Pines Resort:
Creating a magical experience for families since 1958, Woodloch Pines Resort's signature warm hospitality keeps guests returning year after year and offers a truly unique all-inclusive family vacation experience fitting for everyone's taste. An award-winning family resort, championship golf course and sister property featuring a luxury destination spa are just 95 scenic and convenient miles from New York City nestled in the Pocono Mountains Lake Region. For additional information, call Woodloch Pines at 1.800.WOODLOCH or online at woodloch.com.