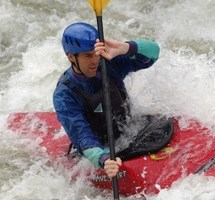 (PRWEB) October 31, 2013
During this fall's Whitewater Symposium and National Paddlesports Conference, the American Canoe Association (ACA) honored Bruce Lessels, president of outdoor adventure outfitter Zoar Outdoor, with the Legend of Paddling Award. The prestigious award recognizes someone who has "illustrated exemplary leadership, service and dedication to various aspects of paddlesport," according to the ACA. As an award recipient, Lessels will also be inducted into the ACA Paddlesport Hall of Fame.
Lessels's involvement in whitewater sports long pre-dates his role as president of Zoar Outdoor. In 1987, as a member of the U.S. Whitewater Team, Lessels won the bronze medal in C-1, a canoeing category, at the 1987 World Whitewater Championships in France. In the next two years, Lessels and his wife Karen Blom dreamed up the idea of creating a place where people could go to enjoy whitewater of all levels. Zoar Outdoor in Charlemont, Massachusetts, was born from that idea, and has turned into a thriving outdoor adventure outfitter. As a certified ACA canoe and kayak instructor, Lessels still goes out on the river, whether for fun or with guests.
Throughout the years, Lessels has had a strong role in river management projects. At the time of Zoar Outdoor's founding, he joined a group of whitewater enthusiasts advocating for river access on the Deerfield River and eventually won a schedule of guaranteed recreational releases on the river. Lessels has also served as a board member of the Deerfield RIver Watershed Association, the US Canoe and Kayak Team, and New England FLOW. He has written several whitewater books for the Appalachian Mountain Club (AMC) including The Whitewater Handbook and Classic Northeastern Whitewater Guide.