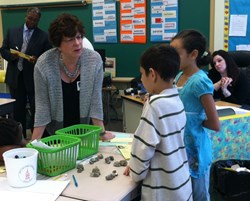 (PRWEB) October 31, 2013
WHO: Linda Gojak, President, National Council of Teachers of Mathematics (NCTM)
WHAT: NCTM President Linda Gojak will observe and share in teaching a math lesson, as well as engage with students and discuss with them the many uses of math in their daily lives. Gojak's visits will kick off the NCTM Regional Conference in Louisville, November 6–8. The NCTM president regularly visits schools around the country to study what students are doing in their mathematics classrooms and to observe classroom teachers in different school systems.
WHEN: Wednesday, November 6
Time: 8:35–10:00 a.m.
WHERE: Noe Middle School
121 W. Lee St., Louisville, KY 40208
Principal: Jan McDowell
School phone: (502) 485-8307
Teacher: Theresa Reilly, Grade 8
WHEN: Wednesday, November 6
Time: 10:45–11:45 a.m.
WHERE: Engelhard Elementary School
1004 South First St., Louisville, KY40203
Principal: Teresa Meyer
School phone: (502) 485-8246
Teacher: Melanie Benitez, Grade 5
WHY: These classroom visits provide valuable information in support of NCTM's national dialogue with policymakers, administrators, and other constituencies committed to high-quality mathematics education.
Linda M. Gojak began her term as NCTM president in April 2012 and will serve for two years. After teaching mathematics at the elementary and middle school levels for 28 years, Gojak has directed the Center for Mathematics and Science Education, Teaching, and Technology at John Carroll University in University Heights, Ohio, since 1999. She has served in many roles with the Council over the years. Most recently, she was a reviewer for Curriculum Focal Points for Prekindergarten through Grade 8 Mathematics: A Quest for Coherence, published in 2006. She has also served as president of the National Council of Supervisors of Mathematics, the Greater Cleveland Council of Teachers of Mathematics, and the Ohio Council of Teachers of Mathematics. Read Gojak's President's Messages, including her latest message about making mathematical connections.
The National Council of Teachers of Mathematics is the public voice of mathematics education, providing vision, leadership, and professional development to support teachers in ensuring mathematics learning of the highest quality for all students. With 80,000 members and more than 200 Affiliates, NCTM is the world's largest organization dedicated to improving mathematics education in prekindergarten through grade 12. The Council's Principles and Standards for School Mathematics includes guidelines for excellence in mathematics education and issues a call for all students to engage in more challenging mathematics. Its Curriculum Focal Points for Prekindergarten through Grade 8 Mathematics identifies the most important mathematical topics for each grade level. Focus in High School Mathematics: Reasoning and Sense Making advocates practical changes to the high school mathematics curriculum to refocus learning on reasoning and sense making. NCTM is dedicated to ongoing dialogue and constructive discussion with all stakeholders about what is best for our nation's students.
Media interested in joining a classroom visit or setting up an interview with NCTM President Linda Gojak, contact Tracy Withrow, Communications Manager, (703) 620-9840, ext. 2189, twithrow(at)nctm(dot)org. During the conference, Nov. 6–8, call (571) 423-6315.
###