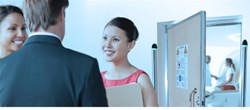 Ferroguard Guardian is a great conversation starter with new patients and staff. It shows how advanced Mason General Hospital is.
Lisle, IL (PRWEB) November 04, 2013
Metrasens, the leading provider of ferromagnetic detection (FMD) solutions for MRI safety, is proud to celebrate National Radiologic Technology Week. Rad Tech Week is an annual celebration to recognise the vital work of radiologic technologists across the USA. Metrasens has joined the celebration by providing a grant to the technologists of Mason General in Shelton, WA for the purchase of Zero-magnetic™ work-wear to further enhance safety in that facility. The week-long celebration draws attention to the invaluable work of the radiologic technologists and the roles they play in the medical process and in the lives of millions of patients.
Mason General recently chose Metrasens' Ferroguard® Guardian FMD to further strengthen the safety in their MRI facility. While MRI is surely an overwhelmingly valuable and safe technology, when a ferromagnetic object (e.g. office chair, oxygen cylinder or bobby pin) enters an MRI room it may be pulled at speeds of up to 40MPH towards the MRI magnet causing untold damage to anything in its path. Ferroguard Guardian provides Mason's technologists with an intuitive and reliable way of identifying risk items, before they reach the door.
Darius O. Usman, Head MRI Technologist at Mason General, says, "The system has worked just great for us. Ferroguard Guardian is always a great conversation starter with new patients and staff. It shows how advanced Mason General Hospital is. The Ferroguard Guardian provides another layer of safety to alert us to ferrous objects being taken inadvertently towards the MRI room. It's immensely valuable and reassuring to my team and our patients." Darius went on to say that, "Prior to having a system like the Ferroguard you would have to have eyes on the back of your head in the MRI scan room. It's hard to keep your focus on the patient and watch the door so no one sneaks up on you, and that's just what you had to do. Now you can keep your full attention on your patient".
Dennis Cook, President of Metrasens North America commented, "We are proud to mark National Rad Week in this small way. Mason General is testament to the trend towards new standards of MRI safety and that leadership in patient care need not be the preserve of the larger academic centres".
About Mason General Hospital
Built in 1968, and located in Shelton, WA, Mason General Hospital has more than 100 physicians on the staff, in 19 specialties. Now with over 540 employees and 100 volunteers, the staff, physicians and physical plant are highly regarded throughout the state. Mason General Hospital is known industry-wide as one of the top rural hospitals in the region. The MRI Facility features a new Panorama High Field Open MRI. The MRI is spacious and comfortable, boasting an almost 360-degree opening, so that anyone with claustrophobia can be scanned in comfort. More information can be found on the Mason General Hospital website: http://www.masongeneral.com/.
About Metrasens
Metrasens is the provider of the Ferroguard range of ferromagnetic detection systems (FMD) for protecting MRI facilities from the dangers of projectile accidents. The world-leading sensor technology in Ferroguard provides the highest sensitivity FMD available in the market today, resulting in the greatest detection reliability and confidence. Metrasens has manufacturing facilities in the UK, has sales and support facilities in Illinois and a growing network of international distribution partners. Metrasens' sophisticated magnetic-detection core technologies are also being successfully employed in the rapidly growing worldwide security markets. Complete information is available at the company's website: http://www.metrasens.com.