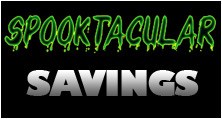 I am extremely happy that I won the Pin It To Win It contest as I have never won anything! I was even more impressed to receive them the next day. Thank you CLE Contact Lenses!Cara R.
Elmsford, NY (PRWEB) October 30, 2013
New York based Eye Care Associates enters its 14th year in business online as the operator of Clecontactlenses.com, an online e-tailer that sells contact lenses, contact lens removers, contact lens solution, contact lens cases, designer sunglasses and prescription frames.
Today, CLEContactLenses.com is kicking off their spooktacular savings deal by providing 6% off plus complimentary ground shipping on all orders for the next 2 days, in the spirit of having a spooky fun time and saving some money in the process this Halloween. In order for visitors to receive an extra 6% off any purchase plus complimentary ground shipping for any orders placed on or before midnight of October 31, 2013, users will need to just use coupon code 063014965 at checkout.
This is not the only spooktacular deal CLEContactLenses.com has had this Halloween. Last week, CLEContactLenses.com kicked off their Pin It To Win It contest in which they provided one lucky winner a pair of color contact lenses. This past Tuesday, CLEContactLenses.com announced Cara R. of Syracuse, NY as there winner of the Pin It To Win It in which she won a pair of Expression Colors color contact lenses to help complete her Halloween look. The color Cara selected was Grey and her reason behind choosing this color is because her eyes are brown and the grey makes her eye spookey.
In order to have been eligible for this contest, users must have been a Fan/Follower of CLE Contact Lenses https://www.facebook.com/cle.contactlenses | https://twitter.com/clecontacts. Once a fan/follower, contestants would have had to pin the pair of color contact lenses to their Pinterest account. While pinning, contestants were encouraged to follow CLE Contact Lenses on Pinterest, https://pinterest.com/clecontactlense.
The contestant that was randomly selected needed to provide their prescription in order to receive their desired lenses since they are a medical device.
While visitors waited to be selected, they were able to enjoy complimentary ground shipping on all orders $99 or more. This generous offer did not require a coupon code.
CleContactLenses.com is located in Westchester County, NY and has been in business online for the last 14 years selling contact lenses, lens removers, contact lens solutions, accessories, designer sunglasses and optical frames.