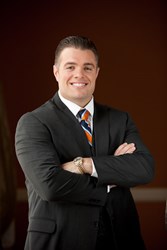 Congo, Brazzaville (PRWEB) October 30, 2013
It was announced today that Thomas Anthony Guerriero, both CEO of Oxford City (OTCQB:OXFC) and the Chief Advisor to the HAB Foundation, has been appointed by Ambassador Fidele Henri Baniakina to decide on the organizations, corporation, and staff for the for a new hospital In Congo Brazzaville. Victoria Benea has already been named the Director of the Physical Therapy department at the DR Fidele Salabanzi Hospital. She will work closely with the Henri Alain Baniakina Foundation at the new medical facilities.
Ambassador Fidele Henri Baniakina said, "This appointment is very significant for the people of Congo Brazzaville. Mr. Guerriero is a remarkable individual with great character, known as a leader and innovator both in Brazzaville and around the globe. With his expertise we are very excited he has accepted this appointment to select the right architect for the new hospital in Brazzaville, establishing a brilliant legacy for the recently passed Fidele Salabanzi Baniakina."
Safe Harbor for Forward-Looking Statements
This press release contains forward-looking statements within the meaning of Section 27A of the Securities Act of 1933, as amended, and section 21B of the Securities and Exchange Act of 1934, as amended. Readers are cautioned not place undue reliance on these forward-looking statements, which are only predictions and only speak as of the date hereof. Forward-looking statements usually contain the words "estimate," "anticipate," "believe," "plan," "expect," or similar expressions and are subject to numerous known and unknown risks and uncertainties. These risks and uncertainties could cause the Company's actual results to differ materially those indicated in the forward-looking statements. Investors are encouraged to carefully review regulatory filings prior to investment consideration. Past performance is no guarantee of future success or that there cannot be losses or business interruption. The Company is in a rapid growth sector that may or may not continue to grow in the future and therefore poses risks that may be different than other investments. Management regularly provides news and additional information believed to be true and accurate at the time of dissemination but has no requirement to modify, comment or change in the future should circumstance change or information prove to be inaccurate for any reason. Additionally, the Company makes every effort to comply with all applicable laws.