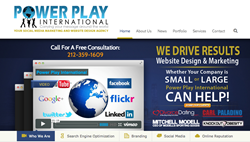 New York, New York (PRWEB) October 30, 2013
Power Play International, NYC's premier web design and digital marketing agency, is pleased to announce the launch of it's new clients website: TarasovNYLaw.com
Power Play International is pleased to add this new website, specializing in NYC personal injury assistance, to it's growing portfolio of small, medium, and large businesses, who need an all-in-one solution. With this new website, Power Play International created a power-house website, covering the boroughs, and long island, that can successfully help victims of personal injuries in NYC.
About Power Play International:
Power Play International is a talented, experienced team of web development professionals. Our client list includes members of the sports world, lawyers, financial consultants, music industry professionals and many cable TV news guests.
Based in New York,Power Play International is well prepared to handle a variety of Internet service needs, from helping a newly created business get on the Web, to producing amazing sites for people without a Web presence as well as redesigning existing websites with modern design trends and an easy to use content management system. At PPI, you will get the VIP treatment you deserve.
Here at Power Play international we strive on giving the opportunity for people and business to grow with the web. We are incredibly excited about the new innovations we have developed for creating the next generation of interactive websites and how they can be tailor made to meet your needs.
For more information please contact
Dean Spinato
516-234-0534
Facebook - Linkedin
info(at)powerplayinternational(dot)com