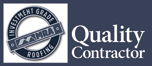 We are honored to receive the Quality Contractor designation. Our team works diligently to provide our customers with educational resources, quality products and the exceptional service that sets us apart in the roofing industry- Frank Farmer-AMR
Flint, Michigan (PRWEB) October 31, 2013
American Metal Roofs (AMR) has been designated a Quality Contractor by the Metal Roofing Alliance (MRA), a national consortium of metal roofing manufacturers.
In order to be named to this elite status by the MRA, American Metal Roofs has met the strict criteria as a quality contractor as established by the MRA. This designation places American Metal Roofs in an elite class of roofing contractors throughout the country.
The few dealers that achieve Quality Contractor status earn the right to display the MRA Quality Contractor seal. This prestigious mark identifies AMR as one of the quality metal roofers across the country.
"American Metal Roofs is honored to receive the Quality Contractor designation. Our team of professionals work diligently to provide our customers with educational resources, quality products and the exceptional customer service that sets us apart in the metal roofing industry." -Frank Farmer- CEO American Metal Roofs
About the Metal Roofing Alliance: The MRA Quality Contractor Program benefits both Contractors and Homeowners. Contractors can stand out from the competition as Quality Contractors. Homeowners can have confidence in their choice of a metal roofing Contractor knowing they have met certain requirements in their services. http://www.metalroofing.com
About American Metal Roofs: American Metal Roofs provide residential and commercial metal roofing products and services throughout Michigan. Customers receive stunning, permanent, energy-saving metal roofs, professionally installed. http://americanmetalroofs.com