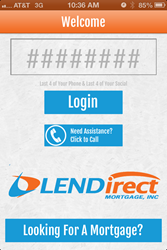 "this app is a HUGE timesaver. Just point, capture and send… it's that simple."
(PRWEB) October 31, 2013
LENDirect Mortgage Inc., headquartered in Berlin, CT, is pleased to announce the launch of their LENDirect Mortgage Mobile App. LENDirect provides a solution for the number one issue facing the lending industry, communication. All relevant parties, including the borrower, Realtor, mortgage company and title agent are now part of an innovative lending eco system. Information, data and communication are seamlessly and transparently shared in real time. The mobile app was designed to greatly enhance the experience for both LENDirect borrowers and Realtor partners. The mobile capture technology allows LENDirect to considerably improve time to close and productivity. Borrowers and Realtors are kept engaged via push notification technology regarding "real time" loan status updates and upcoming relevant calendar events. Realtors even get a dedicated app version that manages all active clients in their mobile system, significantly freeing up valuable time.
Industry veteran, Salvatore Morabito, founded LENDirect Mortgage with a commitment to expertise, integrity, trust and technology, while providing an exceptional customer experience and maintaining value through low costs and competitive rates in a local Connecticut based office.
LENDirect has continued to stay innovative and ahead of the curve when it comes to technology. In today's fast paced world, LENDirect understood the needs of many busy clients. "The new LENDirect mobile app provides the utmost convenience for our clients to view or upload any loan related documents, including appraisals, purchase contracts, commitment letters, or HUD-1's… all via the secured and password protected mobile channel," said Sal Morabito, LENDirect Mortgage's President and CEO. "For example, if a client wants to send us a needed document and a scanner or fax is nowhere nearby, this app is a HUGE timesaver. Just point, capture and send… it's that simple." The easy to use messaging system helps LENDirect communicate and guide their clients step by step through the lending process. This app eliminates the waiting game and keeps the borrower, realtor and all other relevant parties fully engaged. Having already helped countless homeowners across Connecticut, LENDirect has now made the process even easier with their new mobile app!
The free app is now available to download at either the iTunes App Store for iPhone or Google Play for Droid smart phones. LENDirect contracted Easy Mortgage Apps LLC (EMALLC) to help bring their vision to reality. EMALLC is a Massachusetts based company which specializes in helping lending companies understand the actionable steps required to establish and implement a successful mobile strategy.
For more info please contact LENDirect Mortgage, Inc. at 860-829-5363 (LEND) or visit http://www.LENDirect.com.