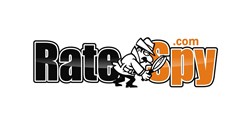 Mortgage shoppers left $300 million on the table last year by overpaying on their mortgage rates. -- Robert McLister
Toronto, Ontario (PRWEB) October 30, 2013
A new website called RateSpy.com lets consumers track virtually every Canadian lender's advertised mortgage rates, helping them to avoid paying too much.
"Mortgage shoppers left $300 million on the table last year by overpaying on their mortgage rates," according to the site's creator Robert McLister, who is also a mortgage planner and editor of CanadianMortgageTrends.com.
"That's $1,100 of needless interest spent by the typical mortgage holder over five years."
According to industry data, the average consumer pays 0.15 percentage points more than necessary on a five-year fixed mortgage.1
Preventing that wasted interest is one of the easiest ways that Canadian homeowners can save money, says McLister.
"A key reason people overpay for their mortgage is that they don't know the market's best mortgage rates. There are so many lenders with great deals, like local credit unions and wholesale lenders, but most people never find them."
RateSpy.com is the sole online source tracking all Canadian lenders who publicly post their mortgage rates. In all, there are over 330 lenders and brokers to choose from. The site also features promotional rates not found anywhere else.
Consumers can apply directly with the lenders and brokers on the site. Or they can use RateSpy.com's rates as a negotiating tool with their lender of choice. And if they find an exceptional deal elsewhere, they can inform fellow mortgage hunters in the community by using the website's message forum. There is no cost to use the site.
The rate tables are compiled by a team of data analysts who use computer technology to monitor mortgage pricing. Rate-change data is then manually double-checked and updated four times a day.
"The data power of RateSpy.com could profoundly ratchet up competition in the Canadian mortgage market," says McLister. "The site's 2,900+ mortgage products provide a vast range of choice, making it a logical first stop when researching a mortgage."
Upcoming features will help consumers sort mortgages by the lowest penalty, highest prepayment options and other features, many of which impact borrowing costs more than upfront rate differences.
1 Rate study available to media on request.