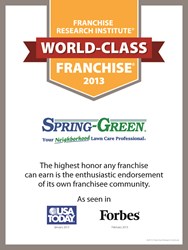 Plainfield, Ill. (PRWEB) October 31, 2013
The Franchise Research Institute has designated Spring-Green Lawn Care the No. 1 rated lawn and tree care franchise system. The honors are determined by the results of FranSurvey's extensive annual survey that asks franchisees to rate the overall quality of their franchisor, their relationship with their franchisor, and the effectiveness of the systems and procedures their franchise system has in place to help them.
The results of this year's confidential survey of franchisee opinions show that Spring-Green garnered especially high ratings, all over 90 percent satisfaction, in overall quality, field representatives and overall communication. They also were rated in top percentiles for, among other categories, long-term commitment between the franchisee and franchisor for a positive long-term franchise relationship, initial training, opening support, ongoing training and support and performance standards.
"To be designated as No. 1 rated means that Spring-Green is providing exceptionally high quality training and support for their franchisees," said Jeff Johnson, founder and CEO of the Franchise Research Institute, "and that they have exceptional communication. Spring-Green is at the top of an elite group of franchise opportunities."
"Spring-Green prides itself in areas of initial training and ongoing training and support for all of our franchisees," added James Young, Spring-Green's president. "Being distinguished as the top-rated lawn and tree care franchise validates all of the hard work our support and marketing teams provide franchisees each and every day."
Spring-Green offers several options for new franchisees including the Green Industry Model, the Owner/Operator Model and the VetFran Program. New owners are provided with extensive training and support immediately, as well as on-going support in the field once they launch their franchise.
###
About Spring-Green Lawn Care
Founded in 1977, Plainfield, Illinois-based Spring-Green Lawn Care has been delivering lawn and tree care services nationwide for over 36 years. Its service is centered on the beautification of residential and commercial customers in middle-class and affluent neighborhoods and communities. Spring-Green is an attractive opportunity for entrepreneurs and existing green industry business owners who want to align themselves with a franchise opportunity that has proven economic resilience, healthy profit margins, industry leading business and marketing intelligence, recurring revenue and retirement & family planning through business ownership. Spring-Green currently has 120 franchises operating in 26 states. Spring-Green Lawn Care franchise owners gave the franchise opportunity a 90 percent overall quality rating, according to the Franchise Research Institute 2013 survey. For more information, visit http://www.springgreenfranchise.com or http://www.spring-greenfranchiseblog.com.