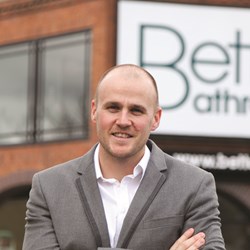 (PRWEB UK) 30 October 2013
The shortlist for the first ever Great British Entrepreneur Awards has been announced and Better Bathrooms has been shortlisted for:

E-commerce Entrepreneur of the Year
Most Captivating Entrepreneur of the Year
Retail Entrepreneur of the Year
The Awards have been recognised as the new benchmark for entrepreneurial success in the UK. Last night's event reflected their appeal with attendance from a who's who in UK business, politics and entrepreneurship.
With over 80 shortlisted entrepreneurs in 17 categories including Entrepreneurs Champion and Serial Entrepreneur of the Year, those who won a place on the shortlist clearly demonstrated that the UK's entrepreneurial spirit has not been diminished by the recession. Many of the entries had fascinating stories to tell of creativity and extraordinary resilience to overcoming challenges.
The shortlist includes the very young:
Henry Patterson of Not Before Tea; an online sweet shop set up by the UK's youngest entrepreneur who is just nine years old.
To the more experienced:
Colin Stevens of http://www.betterbathrooms.com. Ten years ago, the business was set up in (then) 21 year old founder Colin's bedroom. Better Bathrooms is now firmly established as the UK's largest independent bathroom and tiles retailer and employs 180 people.
Neil Barnfather who has invested in and successfully managed more than fifteen new start-ups, across multiple industry sectors, since his late teens. He has sold everything from chocolate to integrated circuit boards. As a blind man, Neil is particularly passionate about inspiring others with disabilities to succeed.
And the well-known:
James Caan, who has been at the forefront of one of the biggest social initiatives in decades to address youth unemployment and help revive the economy.
Julie Deane who set up The Cambridge Satchel Company with her daughter to take her out of a situation where she was being bullied. Starting up five years ago, The Cambridge Satchel Company now employs more than 60 people, producing around 900 bags a day.
Simon Burton, Founder of the Great British Entrepreneur Awards, said: "The judges and I have been humbled by the quality of the entries. Our shortlist have all achieved extraordinary things, some against adversity. It is a real pleasure to be able to recognise and celebrate the true heroes of UK entrepreneurship."
The awards will take place on 19th November 2013. In addition to the headline sponsor Bizcrowd, a free to use business to business community website, the awards are sponsored by:
Exact: A leading global supplier of financial and business software
XLN: Suppliers of business phone lines, business broadband, mobile, card processing services, energy and insurance to UK SMEs.
AXA Business Insurance: Business Insurance specialists for micro, small and medium-sized businesses
Dell: Global technology and service providers who help small and medium businesses draw greater value from IT to grow and better serve their customers
Kaspersky Lab: The World's largest privately held vendor of endpoint protection solutions.
For more information on the Great British Entrepreneur Awards, visit: http://www.greatbritishentrepreneurawards.com