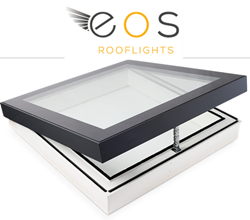 Bromley (PRWEB UK) 31 October 2013
The EOS brand launched early October, as the official rooflight trading arm for SKG London Limited, an established sliding door installation company. They specialise in high specification rooflights designed specifically for flat roofs.
The brand has a unique competitive edge as the only UK stockists that supply the contemporary and thermal efficient range of rooflights by Danish glazing specialists Vitral.
Their new website, designed to be viewed on multiple devices, launched shortly after the brand went live with the aim to increase awareness of their business and the products that they offer.
The site acts as the company's online marketplace and its sleek design features animated images of the products in motion and showcases the brand's high-end style.
The company's product range currently consists of four different types of rooflight, each with their own unique properties. Customers can browse the catalogue to see the technical drawings, specifications and cost of the items as well as find the answers to commonly asked questions or get in touch with the company. They will soon be launching a blog where they will share their advice and expertise.
The new site marks an important milestone for this fresh faced brand. When asked what comes next, a company spokesperson had this to say:
"Now is a very exciting time for everyone on the EOS team. We are confident that once the public see our products they will appreciate the quality and, best of all, the fact that we are able to offer this level of quality at such a competitive rate.
Moving forward we will be building incentive schemes for builders and roofing contractors, a service which many other UK companies neglect to offer. Look for us at industry events and trade shows next year".
About EOS Rooflights:
EOS Rooflights is a specialist division of SKG London Ltd, a company that has been trading for 35 years in the glazing industry, before becoming a limited company in 2008. EOS was founded with the sole aim of supplying a market-leading product directly to the trade and general public. EOS is the exclusive UK stockist of the SkyVision range, produced by Vitral.