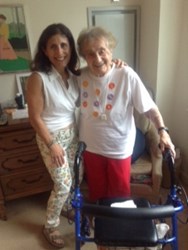 With the assistance of dedicated volunteers, we are making a real difference in the lives of the frail and homebound in Westchester.
New York, NY (PRWEB) October 31, 2013
DOROT, a social service agency dedicated to alleviating social isolation among older adults, brings a positive presence to Westchester residents through a variety of volunteer opportunities. 102-year-old Phyllis has been receiving weekly visits in her home, an assisted living facility, from the same volunteer since 2008 through DOROT's Friendly Visiting program. The volunteer, Joan, was carefully matched with Phyllis based on shared mutual interests, availability and location. When the relationship began, Phyllis was largely independent but sought assistance due to deteriorating vision. Throughout the years, as her age-related ailments and frailty have increased, the friendship has deepened. Joan continues to visit regularly and the pair recently celebrated Phyllis's 102nd birthday together. "Joan has been fantastic," Phyllis says. "She is loyal and I always look forward to her. She is really sweet and very gifted. I am grateful for her help and her interest in my life."
DOROT brings the community to homebound seniors in Westchester County with volunteer visitors, educational classes and support groups, holiday celebrations and food deliveries. Frail elders residing in areas where public transportation is not easily accessible can remain connected to a caring community without leaving their homes through the programs offered by DOROT Westchester.
Thanks to relationships forged with individuals, families, synagogues, schools, and community groups, DOROT Westchester mobilizes local residents to assist their isolated older neighbors. Offering time, space, and talent, these volunteers and partners help DOROT provide vital services that enable the elderly to remain in their homes for as long as possible.
DOROT Westchester Programs include:

Friendly Visiting, which matches volunteers with older adults who share mutual interests for at least a year of weekly visits
Telephone Friends, providing weekly reassurance calls to ensure the well-being of frail seniors
Holiday Package Deliveries and Shabbat Shalom Westchester, which bring volunteer visitors with special food packages to elders' homes
University Without Walls, a teleconference program offering seniors educational courses and support groups in the comfort of their homes.
Elderly Westchester residents also benefit from DOROT's Information & Referral Service, which provides information on resources for seniors. And DOROT Westchester is educating younger generations of volunteers through specially tailored opportunities for individuals, schools, and community groups, including intergenerational programs bringing middle school students together with elders in senior residences.
"DOROT expanded efforts to keep older adults in the Westchester area connected to the community in 2004," said Mark L. Meridy, Executive Director of DOROT. "In less urban areas, where public transportation is not readily accessible, it is often more difficult for seniors to get around and stay socially and mentally connected. With the assistance of dedicated volunteers, we are making a real difference in the lives of the frail and homebound in Westchester, providing them with engaging visitors, food and holiday celebrations."
About DOROT
Since 1976, DOROT has worked to alleviate social isolation among the elderly and provide services to help them live independently as valued members of the community. We serve the Jewish and wider community, bringing the generations together in a mutually beneficial partnership of elders, volunteers and professionals. Visit http://www.dorotusa.org for more information.