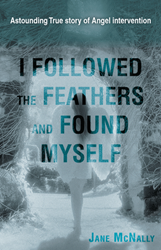 Connection with a higher power helps bring peace of mind and inner-strength.
Maidstone, England (PRWEB) October 31, 2013
When battling the ups and downs of today's world, some would say there are benefits to having help from the other side.
"I Followed the Feathers and Found Myself" is an intimate and revealing autobiography that explores the life of author Jane McNally and her relationship with angels. Divided into three sections, the final part of the book serves as a guide for readers to develop a stronger sense of self and clearer communication with the spiritual world.
McNally's own difficulties of torment and fear transformed into lessons of hope and strength that have helped her overcome and understand experiences ranging from the loss of loved ones to battling preconceived notions in society regarding spirituality.
The third part of the book allows McNally to use her passion, background and knowledge to help people raise their self-awareness and happiness in a world filled with negativity.
"I wrote this book because I wanted to share my insights into spirit communication," said McNally. "A connection with and appreciation of angels and a higher power helps bring peace of mind and an inner-strength."
For more information, please visit bookstore.balboapress.com.
I Followed the Feathers and I Found Myself
By Jane McNally
Hardcover: $30.99
Paperback: $12.99
E-Book: $3.99
ISBN: 9781452570518
Available at bookstore.balboapress.com, amazon.com and barnesandnoble.com
About the author
Jane McNally lives in the Kent countryside in England. With a focus on angels and healing, McNally works as an angelic reiki master and teacher. She shares her knowledge and passion with others at various holistic events around the United Kingdom. McNally trains others in the practice of healing and has developed an international following.
# # #