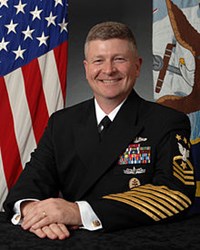 This hire is a sign of our commitment to being the leading company in our industry and we are very fortunate that we were able to find someone of his caliber with his extensive military background to fulfill this role. - Jim Nall, President & CEO
Poulsbo, WA (PRWEB) October 31, 2013
Paladin Data Systems announced today that Rick West has joined the company as Client Executive for Insight and Futuring, focusing on the Advanced Skills Management Industrial (ASMi) software product. Rick West brings a wealth of military experience, having spent his entire 31-year career in the Navy, retiring in 2012 as Master Chief Petty Officer of the Navy (MCPON).
Rick's expert knowledge of Naval operations and military relationships will provide an invaluable asset to the ASMi team. Rick's role will focus on building relationships with military organizations and improving their operations through the deployment of ASMi software, which focuses on the planning, building and managing of skilled military personnel.
"I am excited to start a new challenge within Paladin Data Systems and look forward to working with the team to further develop their already extensive software products suite and services. I am fortunate to be joining such a respected company that prides itself on top quality cloud-based software products and services," said Rick.
Jim Nall, Paladin President and CEO said, "Rick's wealth of experience and industry knowledge will make him a key addition to the Paladin Data Systems family. We view his appointment as a sign of our commitment to being the leading company in our industry and we are very fortunate that we were able to find someone of his caliber with his extensive military background to fulfill this role. I'm confident that Rick will play a key role in the continued development and implementation of the ASMi product for our clients."
About ASMi
The Advanced Skills Management Industrial (ASMi) system is a Web-centric training, testing, and workforce readiness management tool designed specifically for the Armed Forces. With hundreds of thousands of military personnel worldwide requiring up-to-date training, ASMi enables supervisors to assess at a glance the overall deployment readiness of military forces, view complete unit and individual training capabilities, and provide competency information for day-to-day operations, emergency readiness, and incident investigations.
About Paladin Data Systems Corporation
Winner of numerous prestigious awards that include Top DoD Program Award, Paladin Data Systems has developed a suite of cloud-based software products serving a wide-range of government agencies in all 50 states and 6 territories. Paladin's national presence spans a diverse customer base including U.S. local governments, state departments, regional transportation agencies, and defense contractors. Paladin also provides software services such as interface development, implementation, database administration, and project management for numerous industries in both the public and private sector. For more information about Paladin Data Systems and the full suite of products available, please visit http://www.PaladinData.com.