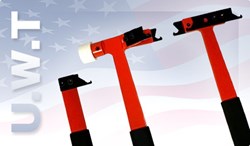 One of the frustrations of tire balancing - wheel weight removal - is now as easy as a flip of the wrist with the revolutionary Ultimate Wheel Weight Tool.
Houston, TX (PRWEB) November 19, 2013
In response to the demand for a way to remove every wheel weight with minimal damage to rim and mechanic, All Tire Supply now sells a new and improved great wheel weight tool. The UWT1000HP Wheel-Weight Hammer & Remover was given good reviews on Tire Review. But the UWT1000HP was limited, so U.W.T. Inc. has expanded their line to include a way to remove 99% of ALL knock-on and clip-on wheel weights on the road today. The new Ultimate Wheel Weight Tools are easy to use safely and simple to upgrade with removable hook plates that will work for most makes, models, or size of vehicle.
UWT1200HP is a wheel weight hammer and removal tool for removal and application of wheel weights and is used with Hooks #52 & #72.
UWT2200HP is a double-headed wheel weight removal tool using Hooks #53 & #73.
UWT800 is a specialty wheel weight remover that works on the uncommon and stubborn Japanese branded vehicles manufactured in the U.S. and the uncommon plastic-coated, large body steel weights that #5 or #7 hooks may have trouble removing.
With these revolutionary innovations in the mechanic's toolbox, pretty much every challenge to wheel weight removal has been answered by one of these three tools and a flip of the wrist. No more pinched fingers from the old plier-type removers. No scratched rims to infuriate customers. Replacement hooks, caps, and grips can be found on All Tire Supply and mean that the tools will stay in top shape for years of productivity. It also means that if a new style of wheel weight appears on the market, it is easy to adapt the UWT tool for the new challenge.
One of the frustrations of tire balancing -- removing the wheel weights -- now is as simple as fitting the appropriate hook in the clip of the weight and leveraging off of the weight body, never contacting the face of the rim. The array of hook options ensure that the majority of weights can now be quickly, easily, & safely removed with this tool.
All Tire Supply Company specializes in tire repair products and offers a full line of tire repair tools and supplies. Our product line includes anything imaginable that has to do with tires, hard to find and special application products. We offer thousands of tire supplies, tools, and other related items for the tire industry.