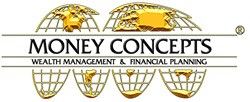 In the last 10 years, growth rate in this industry averaged 19.3%, which means financial advisor businesses can double every 4 years.
San Antonio, Texas (PRWEB) November 01, 2013
In the financial services industry, a financial planner can make between $150,000 and $250,000 after three to four years of getting educated and working in the industry. There is a new growing explosion in the "Financial Services Industry," and educated professionals are wanted. A doctor or medical student goes to medical school for 3-4 years and studies and works a 24-hour day to eventually make $200,000+ a year, just as people in the medical field, it is crucial for financial advisors to study, train, and work on the job to make a great six figure.
Be a part of this year's, Money Concepts University- The Wealth and Management Symposium- a 15 course symposium that will help you achieve your financial goals. Meet and network with hard-working individuals working with Money Concepts, and realize your potential as a financial advisor. The Symposium will begin with a Discovery Workshop- For the upcoming explosion in the "Financial Services Industry," by taking a look at all the wonderful benefits members of Money Concepts receives. Skilled Professionals will be there giving training to new financial advisor's in making sales, creating lead generations, gaining prospects, and compiling your own market niche.
With the right mindset- A Money Concepts mindset- coming into this conference, success is not far from reach.
For more information:
Register online or check out brochure.