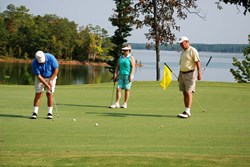 The eight Georgia State Park Golf Courses are announcing two-day, two-night golf packages ranging from $58 to $180.
Atlanta, GA (PRWEB) October 31, 2013
Two days and nights, plenty of ways to stay and play. This fall and winter, enjoy a Georgia golf getaway that is a value in any season, and a bargain from now through February. The eight Georgia State Park Golf Courses are announcing two-day, two-night golf packages ranging from $58 to $180 and include accommodations in lodges, cottages or nearby hotels, cart and greens fees for 18 holes per day. Prices are per person, based on double occupancy and vary by season and day of week. For additional details and restrictions, please visit http://www.gastateparks.org/fallgolfdeals.
Ranging from North Georgia mountain and lake settings to South Georgia coastal locations, each golf course is known for natural greens, tree-lined fairways and unique challenges, and all are open daily except for certain holidays. Some have full-service golf shops featuring golf accessories, snack bars and group/individual lessons, with advance appointment. Reservations are recommended, both for tee times and accommodations packages. Some clubhouses serve breakfast and lunch. Here is a preview of just a few of the golf courses and deals offered by Georgia State Parks:
While The Creek at Hard Labor State Park is fittingly regarded as the hardest of the courses, it was named "4th sweetest deal in the USA" by Golf Digest Frugal Golfer. Two-day, two-night golf packages range from $105 - $180 per person. Arrowhead Pointe at Richard B. Russell State Park, consistently rated highly by Golfweek and Travelgolf.com, is offering two-day, two-night golf packages starting at $160 – $ 182 per person, now through November, a $30 per person discount. The winter rate is an even deeper discount. From December through February, for just $124 per person, enjoy two nights in a two-bedroom cabin, and two rounds of golf, with a four person minimum.
Voted Best Municipal Golf Course in Georgia by Golf Digest, the championship The Lakes at Laura S. Walker State Park is near the northern edge of the Okefenokee Swamp, and features undulating greens and native sand for the many bunkers and waste areas. This coastal Georgia course has three large lakes and is popular for great course conditions and mild weather. Here, golf packages start at $58, including lodging at a choice of nearby Waycross hotels, and breakfast, if applicable, at the hotel. Hotel packages vary, for rates, please visit here: http://georgiagolf.com/info/123685.
To play at any of the eight golf courses in the Georgia State Parks system, a $5 ParkPass is required. For reservations or tee times, call 770-389-7419 or 800-434-0982, Monday-Friday, 8:00 a.m. to 5:00 p.m. EST. To view the full details of each special package, please visit http://www.gastateparks.org/fallgolfdeals.
For those bringing along non-golfers and other family members, there's plenty to do at Georgia State Parks. Events, including nature excursions, kayaking or canoe trips and instructions in various sports, are scheduled on a regular basis. Outdoor activities include biking, fishing, watercraft rentals, geocaching, hiking and more. For more information on specific park amenities and events, please visit http://www.gastateparks.org.
About Georgia State Park System
Georgia's State Parks are affordable destinations for vacations and quick getaways. Waterfalls and lakes, salt marsh and mountains are just some of the beautiful environments of the 48 state parks. Georgia State Park Golf Courses offer the best variety and value around. With eight golf courses to choose from, each features natural settings and picturesque surroundings, as well as fun and challenging play. Most state parks offer fishing, boating, hiking, camping, geocaching, birding and more. Accommodations include campsites, cabins, lodges, even yurts, and vary by park. Among the 15 Georgia State Historic Sites are presidential homes, ancient Indian mounds, battlefields, plantations and even a gold museum. Georgia's public libraries have ParkPasses and Historic Site Passes that can be checked out like a book. Annual ParkPasses are $50 (or just $25 for seniors 62 and older). Even better, membership to Friends of Georgia State Parks & Historic Sites includes a free ParkPass and more discounts. Campers can pick up loyalty cards that earn them every 10th night for free. http://www.GaStateParks.org/thingstoknow.