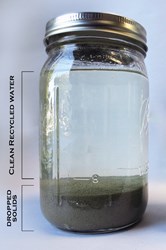 Allowed Ken to grind concrete faster because he did not need to worry about the excess water.
San Diego, CA (PRWEB) October 31, 2013
Many do not see the value of wastewater, but at Gelmaxx, we see its potential for use. Turning wastewater into a clean and reusable resource may seem daunting, but our AQUAmaxx separator recycles concrete slurry water into a safe water supply. Reusing the water not only helps save resources, but it reduces the amount of waste.
When the Occupational Safety and Health Administration (OSHA) proposed new concrete dust regulations on August 23, 2013, more concrete contractors began working with water. To avoid harmful concrete dust from being airborne, contractors use water to subdue the dust. As a result, the mixture of water and grinded concrete create hazardous slurry wastewater.
AQUAmaxx is a proprietary blend with special additives that will separate suspended solids without the need of any machinery. It comes in a liquid form that you mix into the slurry, and the separation process starts in minutes. Only 2-3 quarts is needed for 55 gallons worth of slurry wastewater. Essentially, AQUAmaxx wraps itself around the concrete particles and make them heavy enough to drop to the bottom, leaving clean water on top.
The benefits of recycling slurry wastewater using AQUAmaxx are insurmountable. First, the water can be reused back into the equipment. For example, Ken T. from Hawaii was able to "polish and auto scrub 3,000 sq ft" with only "35 gallons of reclaimed water" at his Wal-Mart project. Normally, contractors would need at least twice as much water to complete that job.
Second, there will be a constant supply of water available for the workers to use. On jobsites without a close water supply, the job is at a standstill until a worker returns with more. The absence of water disrupts the work flow and can easily throw off their tight schedule. AQUAmaxx allowed Ken "to grind faster because [he did] not need to worry about the excess water".
Third, it keeps costs down and saves water. Furthermore, AQUAmaxx drastically reduces the amount of waste that needs to be disposed by separating the solids from the water.
In order to save resources and costs, AQUAmaxx helps ensure that each job effectively utilizes their resources on hand without producing excess waste.
Gelmaxx, based in California, was established in 2011 and provides contractors slurry solutions specifically designed to help during all parts of the cleanup phase. Gelmaxx was founded by a grinding and polishing expert who understands the challenges the industry faces with strict regulations and growing cost of doing business. For more information, visit http://www.gelmaxxusa.com.