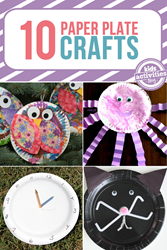 Craft season has never been better with these easy tips by seasoned Moms.
Dallas, Texas (PRWEB) November 06, 2013
Fall time is the time for crafts. Creative paper plate crafts and a super cute turkey craft have been published on Kids Activities Blog. Seasoned Moms are sharing their favorite easy to do crafts. The crafts can be easily done with items found around the house.
One does not have to be that creative to make crafts look spectacular. These easy ideas published on Kids Activities Blog will make any craft session a simple success. The kids will love their creations that can easily turn into fall season giveaways.
The favorite crafts include making a cute paper plate owl out of scrap pieces of paper. Simply gather different colored and textured paper scraps, some googley eyes, buttons, stickers, and some paint and follow the directions on Kids Activities Blog.
Making black cats is perfect for even the littlest artist because they do not need much supervision while making this craft. Let the kids learn about the Lunar New Year by letting them make a traditional Chinese drum. Making a scaly green snake is another fun project even for toddlers.
Make a beautiful Christmas wreath out of paper plates and paint. The craft will be treasured for years to come.
Another cute seasonal craft is the turkey pencil holder. The thankful turkey can does not require a lot of instructions. Simply print out the template provided on Kids Activities Blog and let the kids have a blast coloring it with turkey colors. Other materials needed are a brown paper bag, glue, googly eyes and a clean can.
Simply glue scraps of the paper bag to the side of the can. These scraps will look like the feathers of the turkey. Then follow the instructions to paint, cut out, and glue the feet, wings, and beak onto the can. Finish off with the eyes and ready is the cute turkey.
For detailed instructions and to get additional fun seasonal craft ideas, check out Kids Activities Blog this week. Come get inspired to let the kids have a blast doing cool crafts.
About Kids Activities Blog
Kids Activities Blog is a website created by two moms (who collectively have 9 children), Rachel Miller and Holly Homer from June Cleaver Nirvana. It is their daily goal to inspire parents and teachers to play with kids. This interactive website publishes simple things to do with kids twice a day. Kids Activities Blog is a great tool for moms and teachers to find kid-friendly activities that create memories and sneak learning into the fun.