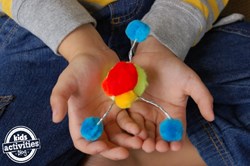 Fun science projects to teach about atoms and molecules make great fall projects.
Dallas, Texas (PRWEB) November 03, 2013
Building atoms and molecules is so much fun. Seasoned Moms reveal the best science projects and fun apple crafts on Kids Activities Blog. Let the kids have a blast while learning new concepts.
Making a variety of atoms or molecule projects is easy to do with the many ideas provided on Kids Activities Blog. Glueing pom-poms to twisted wires to build atom or molecule models is one of the many simple ideas teaching about atoms. Other ideas include using a couple of wax paper sheets to do an atom experiment.
A fun experiment to figure out if molecules disperse easier when water is frozen, at room temperature, or solid ice. will be remembered for a long time. Creating edible atoms and re-creating a molecular field inside a pizza box are only a few of the many out-of-the-box tips published this week.
Along with the apple picking events and apple recipes in the fall, it is also the season for crafts. The fun apple crafts include making an egg carton apple and making stuffed paper apples out of brown paper bags. The stuffed apples make great fall decorations for the house.
Making apple scented green play dough is simple and also a lot of fun. The kids will enjoy the pleasant smell as well as the great texture. Coffee filter apples are easy to do, too. Simply trace the apple shaped pattern provided on Kids Activities Blog and make some coffee filter art to fit inside the pattern.
Painting a beautiful apple tree using wine corks is a classic. Use brown construction paper to cut out the tree trunk and dip wine corks in different colors and stamp them onto the trunk.
For detailed instructions and to get additional fun ideas, check out Kids Activities Blog this week. Come get inspired to let the kids have a blast while learning new things.
About Kids Activities Blog
Kids Activities Blog is a website created by two moms (who collectively have 9 children), Rachel Miller and Holly Homer from June Cleaver Nirvana. It is their daily goal to inspire parents and teachers to play with kids. This interactive website publishes simple things to do with kids twice a day. Kids Activities Blog is a great tool for moms and teachers to find kid-friendly activities that create memories and sneak learning into the fun.