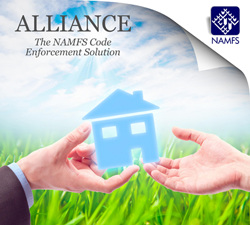 Stow, OH (PRWEB) January 30, 2014
The National Association of Mortgage Field Services (NAMFS) is pleased to announce the launch of the ALLIANCE Mobile App, which allows code enforcement officials to input property-specific information, including the code-related issues, comments and potential fines if not addressed via an electronic form. ALLIANCE is a Web-based communications portal that provides users with an efficient means to share information regarding at-risk properties. The program allows for a cooperative exchange of information enabling all parties involved to connect via a common platform and share information before engaging in a lengthy and potentially expensive violation recording and remediation process.
NAMFS' participating members then receive this information in real-time and agree to review these properties. They can initiate contact with the appropriate code enforcement officer by the next business day, or indicate they do not service that property. ALLIANCE provides code enforcement officials with the opportunity to communicate directly with National Field Service Companies responsible for the preservation and protection of >74% of delinquent properties nationwide. ALLIANCE will offer national field service companies the same direct communication with a large number of code enforcement officials throughout the United States facilitating improved relations and faster resolution of violation issues.
Once users download the App, they create an account. Then they access the form in which they can input all the property information including the specifics of the code violation. NAMFS encourages code enforcement officials to download the App so they can easily input code violations when out in the field. If the account has already been created on the NAMFS website ALLIANCE application, then the same login information can be used on the App.
The App is free and designed for iPhone and Android smart phones and tablets. Features include:

Quick access to the form to add a code violation
Views to see Pending, Claimed and Resolved code violations
Ability to add code officer accounts
The NAMFS ALLIANCE App can be found at these links in the Apple App Store and the Google Play Store by searching for "NAMFS".
About NAMFS
The National Association of Mortgage Field Services (NAMFS) is the premier trade association for the mortgage field service industry. We are dedicated to working with all entities of the industry from the Government Agencies and investors that set policy to the contractors and inspectors that perform the work.