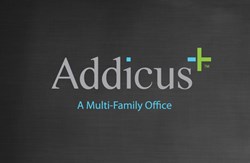 Follow us on Twitter @AddicusTweets.
New Orleans, LA (PRWEB) October 31, 2013
The multi-family office Addicus is pleased to announce a networking event on Thursday, October 31 for attendees of the ADA conference.
The invite-only event will take place from 5:30-7:30pm at the Ritz Carlton in New Orleans. Addicus will be hosting the event jointly with another institution attending the conference. Those attending the private event include conference attendees from both companies and their guests to light hors d'oeuvres and cocktails in a relaxed networking event setting.
Anyone attending the conference interested in meeting Addicus or coming to the private event is welcome to email info(at)weareaddicus(dot)com or follow us on Twitter @AddicusTweets for more information. Throughout the year, Addicus attends a variety of conferences and hosts multiple networking events. Please email the address above if you would like more information regarding events hosted by Addicus as well as conferences that Addicus will be attending.
The American Dental Association Annual Session and Conference in New Orleans is from Oct 31 to Nov 3. The annual conference is the showcase event for dentists and dental professionals interested in high quality continuing education programs to improve patient care.
More information about the conference can be found at http://www.ada.org/session/.
About Addicus
Addicus is a full service firm driven by economics, not finance. Our global perspective and approach often challenges conventional wisdom with amazing results. We specialize in providing services usually reserved for family offices of the world's top earners providing our clients a boutique style approach with a personal touch. Addicus' Private Wealth Development services start with a discovery phase by piecing together a full and thorough profile of one's personal and business finances. Leading with your mission statement, Addicus designs and uniquely crafts a playbook to accomplish your goals and initiatives. Contact Addicus today and get started with a playbook of your own. Please visit http://www.weareaddicus.com.